Anne Elizabeth (Schoonover) Nugent, 99, of Vincennes, passed away on Monday, June 15, 2020 at Good Samaritan Hospital.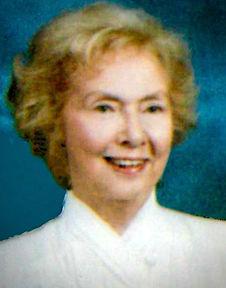 Anne was born on March 9, 1921 in Owensboro, Kentucky, to James and Katherine (Andermatt) Schoonover. She married Maurice W. Nugent on Feb. 12, 1945. He preceded her in death. She graduated from St. Rose Academy in 1939 and attended Bowling Green College of Business. During World War II she was employed in administration and bookkeeping at George Field. She also assisted her husband in the family business, Nugent Dairy Farms. She was a member of St. Francis Xavier Catholic Parish.
Anne was an avid duplicate bridge player and, along with her husband and sister, Martha, traveled widely playing in tournaments. She achieved the status of life master and club director. She was a talented artist and loved giving artwork to relatives and friends. She also contributed her paintings for church fundraisers. She enjoyed hosting family and friends and was a faithful friend to many.
Anne (also known as Booie to close friends and family) was a devoted and caring wife, mother, grandmother, and great-grandmother who was deeply loved by her family. She was blessed with a wonderful and long life.
She is survived by a son, Dr. Bruce Nugent of Indianapolis; a daughter, Cindy Allega and her husband, Jerry, of Evansville; her grandchildren, Dr. Kate Nugent, Matt Nugent and his wife, Prita, Rob Allega, and Jim Allega; her great-grandson, Stephen Kumar Nugent; and many wonderful nieces and nephews.
In addition to her husband, she was also preceded in death by a son, Dr. Stephen Nugent; her beloved sisters, Martha Jane James Jenson, Mildred Risch, and Helen Davis; her brother, James Schoonover; and her sister-in-law Penny (Mildred) Ledlie.
In the current environment of COVID-19 will not be a formal indoor visitation. Graveside funeral services will be 11 a.m. on Saturday at Memorial Park Cemetery with Father Tony Ernst officiating. In lieu of flowers, memorial contributions may be made to the Christian Education Fund, the United Way of Knox County, or The Young Women's Christian Association of Evansville, 118 Vine St., Evansville, IN 47708. Goodwin-Sievers Funeral Home is honored to assist the Nugent family with arrangements.
Davisson, Richard Alan, died June 14. Services: 11 a.m. on Saturday at Memorial Park Cemetery.
Horn, Edward Dean, died on April 23. Services: noon on Saturday at the Word of Life Church in Bicknell, 7144 Russell Drive. Visitation: 11 a.m. until the hour of services on Saturday at the church. Memorials: the church building fund. Condolences: www.fredrickandson.com.
Jones, Shane Darwin, died June 8. Services: 10 a.m. CDT on Friday at the Hazleton Cemetery. Visitation: 4-8 p.m. CDT on Thursday at Colvin Funeral Home in Princeton. Condolences: www.colvinfuneralhome.com.
Remlinger, Frankie Sue, died June 8. Services: 11 a.m. CDT on Saturday at the May Chapel Cemetery. Condolences: www.emmonsmaceysteffey.com.
Ryan, Shirley R., died June 15. Services: 11 a.m. on Friday at Fredrick and Son Funeral Home, 313 Church St. Visitation: 9 a.m. until he hour of services on Friday at the funeral home. Memorials: St. Francis Xavier Parish, 100 S. Third St., Vincennes, IN 47591. Condolences: www.fredrickandson.com.
Walls, Charles Roy, died June 14. Visitation: 2-5 p.m. on June 22 at the Parklands in Jasper. Condolences: www.goodwinsievers.com.
Obituary information should be submitted through a funeral home. An individual may submit an obituary but must pay in advance and provide The Sun-Commercial with a copy of the death certificate of the subject.
A cost estimate can be provided in advance of publication upon request.
The deadline for submitting an obituary for Tuesday through Friday editions is 4 p.m. Eastern time the preceding day. The deadline for Saturday editions will be 5 p.m. on the preceding Friday.
The Sun-Commercial offers both a free and paid obituary option.
Free obituaries are published for current residents of Knox County and Lawrence County, Illinois, and include the following information:
• Name, age, city or town of residence and date of death.
• Occupation or last place of employment if retired.
• Survivors: Spouse or partner, children, parents, and siblings, with step- and half-relatives included.
• Time, date and location of visitation, funeral and burial.
• One memorial contribution.
• Web site at which online condolences may be made.
• Free obituaries are available only within two weeks of the date of death.
Paid obituaries may contain additional information and can be published for current as well as former residents of the area. Prepayment may be required for obituaries of former residents from outside the area.
Submitted obituaries will be formatted to comply with both The Sun-Commercial and Associated Press publication styles. An example of the formatting is available upon request.
Additional information included in a paid obituary may include:
• A life history such as date and location of birth, parents' names, wedding date and spouse's maiden name, educational attainments (high school, college degrees, etc.), work history, awards and honors received, hobbies and favorite activities, memberships in clubs, organizations and associations, expanded military service record, etc.
• Additional survivors and their spouses, partners or companions (who will be listed as "John Doe and his wife, Jane, of Everytown, Illinois.").
• Those who preceded the subject in death and their cities or towns of residence if desired.
• Notes of thanks or appreciation to caregivers or facilities.
A photo of the deceased may be added for a $10 charge; a second photo of the deceased may be added for an additional $10. The Sun-Commercial reserves the right not to publish photos of poor quality or that are in bad taste.