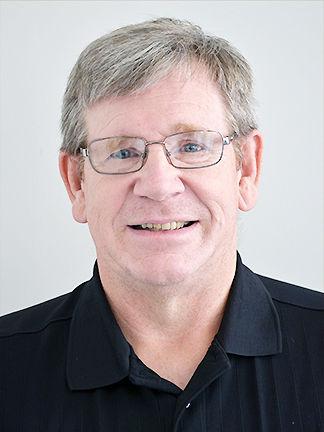 This week my dear wife and I searched for a picture worth more than a thousand words.
We had to because of the dreaded COVID-19 pandemic and stay-at-home order of Gov. Eric Holcomb.
You see, dear readers, the photo was of our newest grandchild, Jameson Dillinger Carroll, who was born Sunday but has yet to be placed in our arms.
We gathered about a dozen photos of Jameson this week — all priceless of course — since the coronavirus restrictions kept us from holding the newest addition to the family. The pictures are wonderful but no replacement for cuddling with Jameson, especially for his Mima and hug-loving Dida.
There's just something about that skin-to-skin contact with a newborn baby who has inherited part of your flesh and blood.
Thousands of families are going through what we at Carroll Castle are enduring. But never fear, the delayed first meetings of newborn grandchildren with their grandparents will take place soon and perhaps they may carry a deeper meaning and bond because of these trying times.
Curiosity may have done in the cat but it's anticipation that is messing with the heads of this Mima and Dida. Honestly, it is for the best that Jameson's protection trumps our eagerness in this place and time.
After more than seven years and four delightful and beautiful grand princesses, I finally have a grandson. And, yes, his middle name is taken from the notorious Hoosier gangster, John Dillinger, but more on that a little later.
Jameson came into the world April 26, at 8:42 p.m., at Good Samaritan Hospital, the same place where big sisters Irie (3 years) and Isabella (21 months) gasped their first breaths of free air. Jameson weighted in at 8 pounds even, measured 20.5 inches long and is as healthy as any newborn in the U.S.
Mommy Holly is doing well and Daddy Adam survived once again.
Already Jameson is proving to be such a well-behaved and considerate child. He came ahead of schedule and on the first weekend Daddy had off since being deployed to Indianapolis for National Guard medical equipment logistics management duty.
A brief video chat over the cellphone Sunday night helped to lessen the disappointment of not being present in the hospital family waiting room during the delivery. The wife and I both snuggled with Irie and Isabella less than an hour following their births.
While the first impressions of Jameson by Mommy, Daddy, Mima and Dida measured way off the love chart, big sisters Irie and Isabella did not quite display the same vigor.
The princesses slept through the delivery and the next morning all I had to show them at breakfast was the first picture Daddy snapped of Jameson seconds out of the womb. Jameson was a little puffy in the face and bruised with just one eye open.
"Yuck," Irie said, glancing at the new sibling before turning attention back to the blueberry Pop Tart on her plate.
Isabella took a look, mumbled some unintelligible words, and resumed tearing off pieces of her Pop Tart and tossing them to our grand puppies, Ziggy and Layla, under the kitchen table.
Later the girls enjoyed some precious cellphone video time with Mommy, Daddy and Jameson and their opinions of little brother had changed. Irie wanted to see Jameson more than her parents and Isabella smiled each time Jameson came on the screen.
After the call, Irie asked when Jameson got to come home from the "hispital" so she could hug and kiss him. Isabella blew kisses to Jameson during the call and a few afterward once being told Jameson would be coming home in a day or two.
Jameson's chubby cheeks and piercing grayish blue eyes give off promising hopes of a future football linebacker for The Ohio State University Buckeyes. If the truth be told, Dida will take a cornerback or offensive tackle as well while Mima prefers her newest grandchild forgo the football pads and wear the scarlet and gray marching band uniform of a tuba player who earns the honor to dot the "i" in script "O-h-i-o."
Of course it might be difficult for Jameson to play football later on since he is slated right now to become a South Knox Spartan.
Who knows what the future holds? but Jameson might have to follow his big sis Isabella into the Ohio State football program. She's a little daredevil who fears nothing — not even the dark — and is learning to tackle Daddy with textbook form when he comes through the front door each evening.
Welcome, uh, wait a minute, I forgot to explain Jameson's interesting middle name.
Daddy is a college history major who loves all things of the past, but is not a fan of one John Dillinger. Adam just likes the sound of the name.
So, welcome Jameson Dillinger Carroll, to one crazy family. I'll let you discover on your own just how peculiar our branch of the Carroll Clan can be even in the best of times.