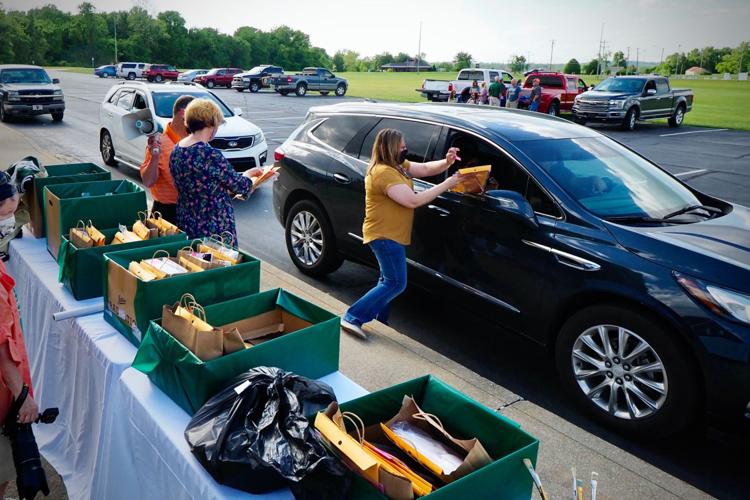 As area schools hosted drive-thru send-off parades this week to mark the unofficial start of summer, superintendents aren't necessarily looking forward to easier days.
In fact, it's quite the opposite.
"I don't know what August looks like," said North Knox superintendent Darrel Bobe. "I have no idea.
So as an unusual few months of e-learning drew to a close this month, superintendents shifted their focus to planning for the fall semester.
The problem, though, is that they really have no idea what to plan for.
Gov. Eric Holcomb's 5-stage back-on-track plan — which could see a full reopening of the Hoosier economy by the Fourth of July — doesn't specifically address K-12 public education.
So superintendents are left to wonder.
"I was feeling pretty good about the start of school in the fall, but now I don't know," Bobe said, mentioning specifically an increasing number of cases of Multi-system Inflammatory Syndrome in kids with COVID-19.
The World Health Organization has reported "clusters" of children in both Europe and North America that have required admission to intensive care units; the condition is similar to the rare Kawasaki disease and toxic shock syndrome.
So far, according to the Centers for Disease Control and Prevention, it has impacted approximately 300 U.S. children.
"Now I guess I want to see how that plays out," Bobe said.
There are any number of hypothesis on what school will look like in the fall.
Will students return to the classroom as usual? Or will they remain home to continue e-learning alongside often anxious parents.
Or, perhaps, could it be some kind of hybrid of both.
"There are a lot of plans out there, and I won't rule out any of them," Bobe said. "If we still have to social distance in groups of 250 or larger, I don't know what that looks like in our schools. I don't know how we all stay 6 feet apart."
The CDC, too, has suggested, should states opt to continue with in-person K-12 education, that masks be worn as well as other suggestions associated with social distancing.
That, too, would pose issues, especially or a corporation's youngest children.
Bobe said he's begun to look at what all kinds of different scenarios would look like, should they play out at North Knox come August. He's even begun stocking up on thermometers and masks for the "just in case."
"I have a file," he said. "And it's getting pretty thick. I'm looking at all kinds of scenarios, and I'll be reviewing those next month with my administrative team.
"But my hope is that we have some guidance (from the governor) before July."
Greg Parsley, superintendent of the Vincennes Community School Corp., has appointed a small internal committee that will begin looking at all the options.
He plans to be ready for anything, he said.
"We're looking at every scenario. We're working on every possible framework," he said.
Plan A, he said, is beginning school in the fall, "business as usual."
Plan B, he said, would be an extension of the last three months, or e-learning.
Plan C, he said, is a hybrid, a plan that would include half the kids coming on one day, the other half another, or some semblance of that.
"Because if we don't get guidance from the governor until the Fourth of July, that doesn't give us a whole lot of time to scurry and put something into place," he said.
Rivet Middle High School, after suffering extensive damage in an April storm that brought with it 80 mph winds, is dealing with additional headaches.
Whether students will return to the building come August remains to be seen; principal Janice Jones was previously unsure whether the necessary repairs could be made in time
They could figure out how to use the classroom space they do have, or Jones, too, has said she is looking to the possibility of other locations.
In reality, no one knows what August will bring.
And South Knox superintendent Tim Grove said he plans to wait and see.
"Right now, we only have a Plan A, which is that school starts as usual on Aug. 11," he said. "We don't have a Plan B or Plan C or Plan D yet.
"We'll wait and see what the governor says about what we'll be able to do,." Grove said. "When we know, we'll sit down with our administrative team and (county health officer) Dr. (Alan) Stewart and see what that looks like.
"I'm not kicking the can down the road or burying my head in the sand, I just don't see the merit in making this plan or that plan or that plan when none of them may end up being viable."