Local health officials fight move of 'healthy' Floyd County patients to Willow Manor
Rumors swirled Thursday morning as information spread of residents either being moved into — or possibly moved out of — Willow Manor.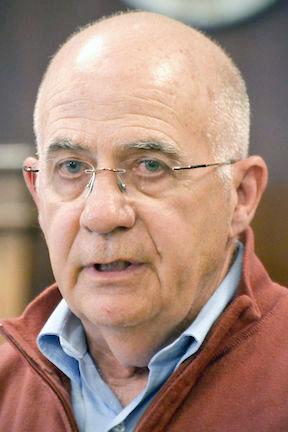 Local residents with family members who either work or live at Willow Manor reached out to a handful of city officials with concerns about the possible movement of residents at the nursing home located at 3801 Old Bruceville Road.
Fishers-based Chosen Healthcare, which owns Willow Manor, earlier this month clashed with officials in Daviess County over the company's plan to relocate patents from the Washington Nursing Center to other facilities, including Willow Manor.
The company had planned to then use the available beds at the Washington Nursing Center to care for COVID-19 patients from its other facilities.
County health officer Dr. Alan Stewart said he, too, received inquires from upset locals on Thursday, so he reached out to the regional director of operations for Chosen.
Stewart said, initially, he was assured that no patients positive for COVID-19 were being moved into Willow Manor.
But that wasn't the whole story.
Continuing to field questions, Stewart said he reached out to the regional director again only to be told that they were actually planning a transfer — "healthy" residents from an at-risk facility in New Albany to Willow Manor here.
There have been residents and workers at the New Albany facility test positive for COVID-19, so Chosen was organizing the move of "healthy" residents (who had tested negative for the coronavirus) to Willow Manor.
But Stewart says he will fight the move.
There's a meeting scheduled for this afternoon between county health officials here, representatives with Chosen, and health officials in Floyd County to determine the best course of action.
"The governor's directive says they can do this, but I disagree," Stewart said. "They have come from a contaminated facility. And even if they have tested negative, that test is only 75% accurate and doesn't mean they can't turn positive tomorrow or the next day.
"They say these residents were isolated, but they were still in the same facility (as COVID-19 positive patients), so they can't guarantee they aren't contaminated by this illness," he said. "In no way do we want these people here."
Stewart said his counterpart in Floyd County, however, disagrees — strongly — and is accusing locals of "medical isolation," or refusing to be willing to take in any new residents for fear of bringing the virus here.
"And I said, 'That's exactly what I'm practicing,'" Stewart said.
"I feel badly for these people (in Floyd County), for their families, I do, but I have to do everything in my power to protect the people here."
The number of confirmed COVID-19 cases here remained at 19 Thursday afternoon, although the majority of those have been declared recovered and released from quarantine.
Local officials say there are only five remaining active cases of the virus with more scheduled to come out of quarantine this weekend.
Stewart credits the slow transmission of the virus here to his policy to keep confirmed sick people in quarantine for a full two weeks beyond the disappearance of symptoms.
The Centers for Disease Control and Prevention recommends just 72 hours.
But Stewart says good hand hygiene, saying home and social distancing when out in public for essential reasons remain of the utmost importance.