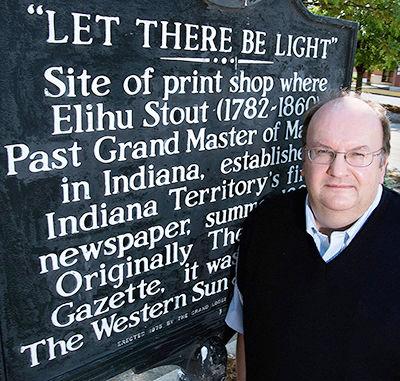 I was over at the Civil War monument the other evening, and I discovered that when you're nearby the stone tablet with the Declaration of Independence carved into it, and you lean way over and tilt your head just right — and squint if you're nearsighted — you can just make out a corner of the historical marker commemorating Mary Bateman Clark that's out the back door of the courthouse.
Maybe that's more symbolic than I realize.
Clark was a brave woman, who stood up at a time when she could have easily been sold down the river into a hellish existence for her impertinence.
Polly Strong, another local black woman who 200 years ago stood up for her freedom (and who like Clark, won) disappears from local history, whether on her own accord no one knows.
You stand there beside this stone tablet, knowing the words by heart, realizing that as a white male you've always gotten the full benefit of their meaning — and yet, almost hidden from view, some 70 steps from where you're standing, is a historical marker to a black woman who had far more courage than you, and who put that courage to the test to get her freedom.
Her memory deserves a better fate than a spot out the back door.
For Indiana at least the question of slavery was forbidden by the Northwest Ordinance, which outlawed the practice in any of the new states to be carved out of the Northwest Territory.
Not that slave owners such as William Henry Harrison didn't try to get around that, to manipulate the law where possible, even trying to amend the ordinance to allow for "legal" slavery when such machinations proved too difficult.
Slaves helped build Grouseland, and waited on the Harrisons and their guests when it was finished.
Vincennes was headquarters of the faction that sought to keep their slaves and even bring in more; slaves were seen as an important tool for economic development by Harrison and his cronies.
So determined were they to keep their slaves even after adoption of the state constitution and Indiana statehood they invented a version of "indentured servitude" with what were basically life sentences — 99 years in one case — to continue the ruse and maintain the lifestyle which they enjoyed.
Unexpectedly, there were a couple of strong-willed women and an attorney with a conscience who challenged the status quo, cases that eventually made their way to the Indiana Supreme Court, where the justices ruled that "slavery can have no existence in Indiana."
Favorable court rulings may have put paid to slavery but not racism — not in Vincennes, not in Knox County, not in Indiana, and not in the country.
Not even Civil War could wipe the stain from our national fabric.
Maybe it's too little, too late for symbolic acts to have much of an impact.
I understand the motivation for tearing down monuments and statues, in new designs for state flags, in renaming public buildings.
Frankly, these have been a long time in coming, so long overdue. As Lincoln said, we cannot be blind to the signs of the times.
It would have been better, of course, had the steps been taken because they were the right steps to take and not as a reaction to yet another act of unjustifiable violence against a black man.
I don't know just how far such actions will go in changing a racist's heart, and whether they are now being done basically to make white people feel better about themselves, a little bit of a salve for the conscious in their not having spoken up or acted before, to have shown some courage.
I had a limited role in getting the Mary Bateman Clark marker put up at the courthouse; my share of the credit would be a pretty thin slice.
The late Rabb Emison, whose commitment was whole-hog on the project, came by my office one afternoon, smiling the famous Rabb Emison smile, to announce that "we'd done it."
Then he told me where the marker would go.
I frowned. I protested the location and what, to me, was an unfortunate symbolism — out the back door.
"My boy" — whenever Rabb was teaching me something I was always "My boy" — "My boy, the important thing for right now is that there will be a marker honoring this woman, and that's what you need to appreciate."
The marker has now been there, out back, over a decade.
I think it's well past time for it be moved up front, to be near the tablets of the Declaration of Independence and the Northwest Ordinance, in the shadow of the Civil War memorial, a reminder of what courage can accomplish.