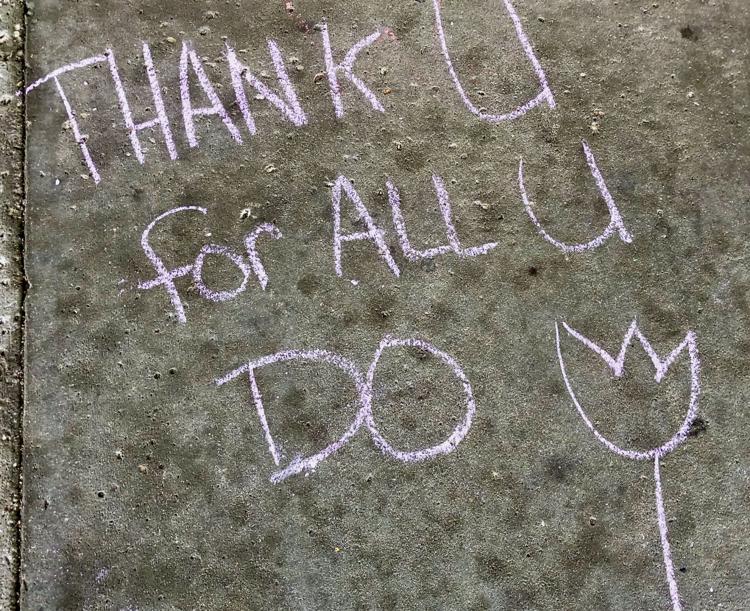 County officials have extended the current state of emergency by 30 days and officially prohibited most visitors from the Knox County Courthouse.
County employees are still being allowed in to work, according to commission president Kellie Streeter, but all other visitors will likely be turned away until the state of emergency is officially lifted.
"We still have work to do," Streeter said during a near 2-hour meeting Tuesday night held in the larger Circuit Court to allow for greater social distancing. "But we've also got to protect our people."
State health officials on Wednesday reported 477 confirmed COVID-19 cases as well as 14 deaths.
Streeter said she has spoken with several county employees and department heads and that, overall, there is not a "great amount of fear" among them regarding the spared of COVID-19 — there have been no confirmed cases in Knox County so far — especially if the courthouse is locked down to most visitors.
"There is still essential business that must go on," she said.
Visitors will be directed to the Seventh Street entrance where they will be met by courthouse security. Unless it is "essential business" that can't be carried out in some other way, they will be turned away.
Anyone who is allowed in will be given a health screening.
Among those "essential visits" — and there are very few — are court appearances, although those, too, are now limited per an order from the state Supreme Court.
Superior Court II has been shut down, its hearings continued until April 10, at the earliest.
Superior Court I and Circuit Court is still open but only hearing those cases that have been deemed essential.
Circuit Court Judge Sherry Gregg-Gilmore said those are things like emergency guardianship hearings or guilty pleas that would, as a part of the deal, result in the release of an inmate currently at the Knox County Jail
Things that she, personally, has cancelled are those hearings that draw larger groups, such as child support hearings or proceeding supplemental hearings, which are instances where someone has a judgement against them but has failed to pay.
She, too, has postponed all jury trials until the emergency order is lifted.
An order handed down by the Supreme Court allows courts all over the state to reschedule hearings and move deadlines with no repercussions.
Gregg-Gilmore said she is still holding daily hearings, but she has staggered them as such that she never has any more than three people in her courtroom at a time. And everyone must be at least six feet away from one another, per the guidelines associated with social distancing.
Prosecutor Dirk Carnahan said while some businesses have shuttered amid the "stay at home" order issued by Gov. Eric Holcomb, for his office "that is not an option."
Law enforcement officers continue to do their jobs, Carnahan said, and the constitution requires that those arrested be processed by the courts.
Those impacted by those cases, too, are awaiting resolution.
But he has made changes as to how his office is handling new and ongoing cases.
Face-to-face meetings with attorneys, law enforcement officers, victims and witnesses will not take place, Carnahan said.
"Any necessary meetings will be held electronically, by telephone, e-mail, Facetime or other remote method."
Visitors, too, are now prohibited in the prosecutor's office, and all documents will need to be received electronically.
Half of the office's paralegal staff is alternating weeks working remotely.
"This is designed to make sure that the office can remain functional even if one employee were to be exposed to the virus," Carnahan said.
Law enforcement officers are also being encouraged not to make arrests on certain crimes, he added, specifically non-violent minor crimes with no identifiable victim. Instead, they are being asked to issue a report that is then emailed to the prosecutor's office.
The statute of limitations gives them a "broad window" during which to file those criminal charges.
"At this point in time, making arrests and transporting those charged includes an additional risk," Carnahan said. "We would like to minimize that when possible."
Serious crimes, including crimes of violence and crimes involving children, will be given priority.
"And the pandemic does not mean that these cases will be treated with any less urgency and our office remains committed to taking these cases very seriously," he said.
To minimize the threat of a widespread outbreak of COVID-19 at the jail, those being held for minor offenses as well as those near their scheduled release date are being considered for early release now.
"It is important that justice, including a jail sentence, be carried out," Carnahan said. "However, when balancing the dangers of confinement during this pandemic, release of some inmates is the appropriate response.
"Our office appreciates the concerns of the sheriff and will make every effort to balance those concerns with our duty to protect the community."
HOSPITAL CHANGES PATIENT SERVICE
Good Samaritan Hospital officials have now set up a triage tent outside the Emergency Room in an effort to screen for possible COVID-19 patients.
All emergency patients will now be triaged outside in the parking lot before entering the hospital in an effort to "help nursing staff to identify patients" who could be suffering from COVID-19.
A separate drive-thru clinic for anyone suffering respiratory symptoms has been set up outside the Convenient Care Clinic at 1813 Willow St. Hours are currently 9 a.m. to 7 p.m. weekdays and 11 a.m. to 5 p.m. on the weekend.
But those with respiratory symptoms — common COVID-19 symptoms include fever, cough and shortness of breath — are asked to first call a nurse line at 812-885-3331.
Those deemed sick enough will then be directed to the drive-thru clinic, which now serves as a medical triage location for assessing patients' conditions, and if necessary, as a testing site for those who meet guidelines for testing of COVID-19.
Most patients, those with mild to moderate symptoms, will be directed on how to self-quarantine and care for themselves at home.
Those with severe symptoms or high-risk patients could be admitted to the hospital.
Other acute visits, that would normally be seen at the Convenient Care Clinic are being re-directed to the Medical Center of Vincennes, 406 N. First St. Hours there are 8 a.m. to 5 p.m. weekdays and 11 a.m. to 5 p.m. weekends.
Hospital officials say the Samaritan Center has also implemented the use of virtual visits for its behavioral health patients. They are being called and their visits rescheduled using video.
Good Samaritan also has moved its Anticoagulation (Coumadin) Clinic to the Welch Diabetes Education Center, 615 Dubois St., to allow patients to access care without entering the hospital.