County's most critical COVID-19 patient released from hospital after 30 days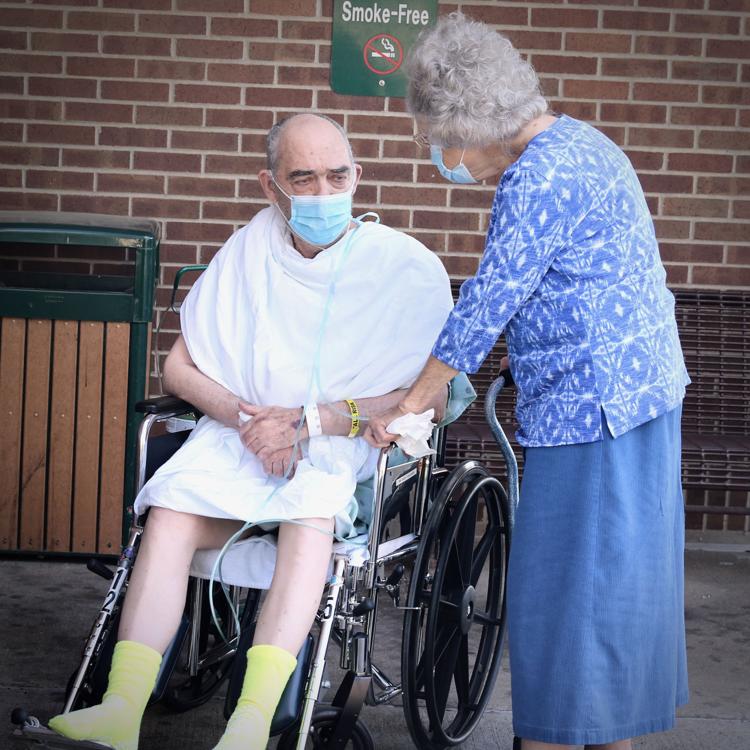 Eighty-year-old Jerry McCord slowly pulled the blue mask down to reveal his nose, then mouth and, finally, a month's worth of gray scruff, his aged fingers finding the whiskers and smoothing them down.
Then he lifted his eyes to the sun and sighed.
"I may be around awhile longer yet," he said with a slight, yet mischievous, grin.
"Of course that may make some people happy — and other people sad," he finished, to which the group of nurses huddled around him chuckled with delight.
McCord, a Knox County native, was admitted to Good Samaritan Hospital a month ago with COVID-19; he's been, so far, the county's most critical coronavirus patient.
He lives with his wife, Helen, 81, in a local apartment. He suffers from COPD; she struggles as a diabetic. But they got along, loving and tending to each other as best they could.
Then in May, McCord began feeling worse, struggling to take deep breaths and finding himself winded after taking only a few steps in any direction.
"If I did anything extra, I couldn't breathe very good," he said. "I was always running out of energy. I couldn't get out of bed. I couldn't get out of my chair.
McCord called his son, who took him to the emergency room. He had pneumonia and was immediately admitted.
Five days later, his COVID-19 test read positive.
"I was surprised," he said, his blue eyes wide. "I was hearing about it. I remember thinking, 'Oh man, I sure hope I don't get that.'
"But I wasn't worried, I didn't leave the house."
McCord believes he likely got the coronavirus from a family member who lives outside the county. A few others in the family, too, were positive.
But he was, by far, the sickest.
Nurses and staff who took care of McCord over the last month say his situation was dire, requiring supportive care and around-the-clock oxygen. He wasn't, however, ever placed on a ventilator.
"They keep telling me I was lucky," McCord said.
He wasn't able to have visitors due to COVID-19 restrictions, but he doesn't remember caring all that much.
"I was so sick," he said with a shake of his head, his weathered hands settled in his gowned lap. "And when you're that sick, you really don't think about things as much. I just felt so bad. I didn't want to talk to anybody. I didn't have enough strength to even talk on the phone.
"It wears you out, talking," he said matter-of-factly.
McCord grew up in Oaktown, the son of a watermelon farmer. He later moved to Fritchton where he graduated from high school in 1957, he said.
He married Helen, whom he affectionately calls "an awful good woman," just a year later.
He worked at a local gas station for a time before taking a full-time position with a local pest control company. He retired in 2003 when the COPD became so bad he could no longer climb flights of stairs in the houses he'd serviced for so long.
Still, he managed, got around his small duplex in Daleview Estates just fine, took care of Helen and enjoyed the occasional visit from friends and family.
COVID-19, however, has set him back — a lot.
"I'd been home with the COPD for three or four months before I got so sick," he said of contracting the coronavirus. "I always heard, if you got COVID and you were 80 years old with COPD, it would probably kill you.
"So I'm surprised I'm still alive," he said. "I guess God wanted me here a little longer."
It is not only the respiratory disease sweeping the globe that has left its mark on McCord's health. His caretakers say he fell into a depression, as anyone would not being able to see loved ones for a month.
As he began to heal and show signs of improvement, a move to the GSH inpatient rehab unit was inevitable.
And reuniting him with Helen was at the top of the priority list. The two saw each other for the first time in more than 30 days just outside the hospital on Thursday night.
"He was so low, not seeing his family," said Steve Wissell, director of the hospital's inpatient rehab program. "So that's part of our treatment here. We take a multi-discipline approach to healing.
"And it was quite a reunion for them."
Dr. Alan Stewart, the county's health officer, pushed for the reunion between McCord and his wife.
Being in the hospital for that long — especially being isolated from friends and family — is taxing and can be psychologically debilitating.
"But reuniting with his wife, I always tell people, that's worth any three pills I could give you.
"Seeing his wife again did a lot for him, both physically and emotionally."
Stewart said he checked in often with Helen McCord and followed Jerry's chart on a daily basis, often communicating with his nurses and doctors on treatment protocols.
This particular case, Stewart said, had everyone worried.
"He did very well to get through this, very well," Stewart said.
McCord is now making small improvements every day; he hopes to return home to Helen within the week.
Rehab specialists will begin working with him on a variety of tasks, things like getting out of bed on his own, getting himself a drink — and shaving.
"I'm doing better," he said with a smile. "I can get out of bed now and take 8-10 steps.
"Before, I could only take a couple, and I'd be gasping for air."
And health officials don't believe McCord poses a risk to anyone in terms of spreading the COVID-19 virus. He's 30 days out from the initial infection, which puts him outside the required quarantine time.
He's not had a fever, nurses said, in several days, and he's tested positive for the COVID-19 antibodies, which shows he's entered the recovery phase of the virus.
"They've been so good to me here," McCord said as he gazed around at his entourage of caregivers Friday morning. "They couldn't have been any better. All the nurses, they're just great."
And the nurses and doctors are fond of McCord, too, saying his humorous personality quick-witted comebacks kept them on their toes.
"I try to amuse people," McCord said. "There's no use in going around mad all the time."
But McCord is now eager to rejoin his wife, see family members and friends who have been awaiting his return.
He has a word of caution for those in the community who aren't taking the necessary precautions to slow the spread of COVID-19, too. As he's watched the state reopen — from a television screen unable to leave his hospital bed — he's found himself frustrated at what he sees and hears.
"It seems like once they turned people loose, they didn't use their sense," he said. "They run around with no masks, go to the beach and hug one another and then wonder why they get sick.
"So do what you're supposed to do," he said, a burst of energy coming with along with his indignation. "Wear your mask, practice social distancing and don't be out in crowds."