Stewart sees evidence of 'community spread'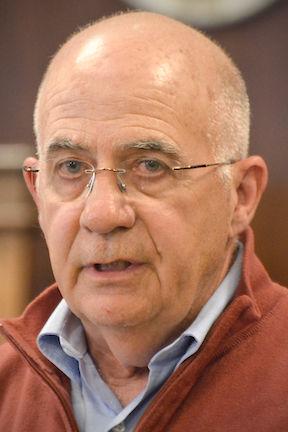 Confirmed cases of COVID-19 in Knox County has surged.
Five more cases of the coronavirus were reported over the weekend and another two came on Monday, according to county health officer Dr. Alan Stewart.
One of those weekend cases, however, was allowed to fall off the county's confirmed total as there was a mistake in the patient's address.
It turns out that confirmed case works and lives in Daviess County, Stewart says, but because the residence is so close to the county line, there was initial confusion.
That leaves the county's total caseload at 47 known cases.
Of those, 12 are considered active.
One remains in the hospital with the others quarantined at home, Stewart said.
Two of these most recent cases, he added, are actually out-of-state residents, yet for some reason the state is adding them to Knox County's confirmed list.
One of them is a contracted worker while the other was visiting from Florida; both were staying in local hotels.
The Florida-based patient has since returned home and is no longer in contact with local health officials, Stewart said.
Another confirmed case from the weekend, Stewart said, is a local resident who has since packed up and left town, refusing to communicate with officials from the local health department.
Many of the remaining cases, he said, are connected to previous cases, supporting his theory that Knox County is finally seeing some "community spread" of the virus.
"We're seeing community spread, we're seeing spread at a church," Stewart said. "And we're seeing some family spread, and all of this has caused our numbers to increase quickly."
There have been a handful of cases reported at a local church, he said, adding that officials there are aware and now taking proper precautions.
While Stewart did not offer the name of the church, leaders with Victory Community Church, 1201 State St., did make an announcement via Facebook that, due to positive cases amongst parishioners, they were cancelling services for two weeks. They are set to return on July 12.
There has also been spread amongst families, including the county's first confirmed case of COVID-19 in a child.
Stewart said these latest cases of the coronavirus — minus the one now in the hospital for a third week — seem to be less severe than cases reported early on.
"They do seem to be not as sick, those in this latest group," Stewart said. "Out of the first 20 cases we had, four of them were in the hospital, at least on a transient basis.
"But we've been fortunate in that we've not had anyone on a ventilator so far."
The most common symptoms, Stewart said, continue to be a loss of taste and smell as well as sinus congestion and a "dry hacking cough."
Throat soreness is also often reported as a symptom along with muscle aches and pains and "general malaise," he said.
Fever seems to now be "not as prominent."
"I'm just curious to see if this is something that is going to grow, and we can get it calmed down or if it will get out of hand," Stewart said.
It will be up to the general public, he said, to slow the spread.
He encourages everyone to practice social distancing when in public and to wear masks.
If you are experiencing any symptoms, isolate yourself and contact your health care provider or the Good Samaritan Convenient Care Clinic, 1813 Willow St., at 812-885-8941.