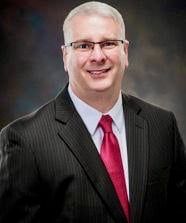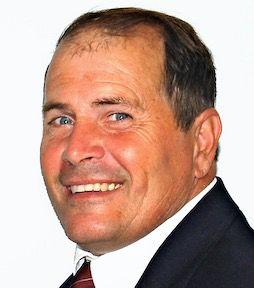 T.J. Brink, a former Vincennes city councilman, is looking to unseat incumbent Tim Ellerman in the race for the GOP nomination to the District 1 seat on the county commission.
Ellerman, a former 3-term county councilman himself, is going for his second term as a commissioner, hoping to secure another four years on the county's executive branch.
At the top of his priority list, Ellerman are continuing road repairs. Thanks to the state's Community Crossings Matching Grant Fund, the county has been able to invest millions in infrastructure repair.
And Ellerman wants to continue the good work.
"Fixing roads, that's something I really like doing, that's why I ran the first time," he said. "Everybody wants a good road to do drive on, and we've been able to do a lot (with CCMG) and (Economic Development Income Tax) dollars.
"We've done well, but I want to do more," he said.
And Brink agrees. Infrastructure should continue to be a top priority moving into the next four years.
"We're seeing more money coming in from the state than ever before," he said. "But we need to also make sure we're kicking in as much cash as we can, too.
"We've also got to make sure the folks at the highway department have every tool they need made available to them."
And infrastructure improvements aren't the only thing the two agree on.
Neither believes any more money should be funneled toward the development of the Pantheon: A Business and Innovation Theatre, a shared workspace and small business incubator located in the historic downtown theater at 428 Main St.
The city and county jointly own the building and put up the initial $2.4 million investment. The commissioners approved the initial gift — as they have power to do — from the county's share of EDIT dollars.
But more is needed to fully finish the job.
Both Ellerman and Brink say enough is enough.
Ellerman, for one, doesn't believe the Pantheon will do for economic development, specifically in terms of job creation, what the Pantheon's driving forces argue it will.
He also argues that shared workspace is available all over — pretty much anywhere there is a computer and WiFi access — from Vincennes University to a computer lab at Pace Community Action Agency Inc. and even local coffee shops.
"I just don't believe the Pantheon will serve a purpose that isn't already served," he said.
He also believes there has been "too much secrecy" among those leading the effort.
"It won't create jobs, it won't create employees," Ellerman argued. "I'm not sure why they've continued on with it."
Brink, to an extent, agrees, and says if elected he wouldn't be in favor of giving to the Pantheon any more EDIT dollars for construction.
And he isn't willing to maintain it in the long-run.
"I've looked high and low for a silver lining on this thing," he said. "And there is just no way the people of Knox County can continue to foot the bill.
"It has to be able to sustain itself, it's got to be able to stand on its own two feet."
The county is paying the Pantheon's executive director, a title held by former county councilman Nichole Like.
Both Ellerman and Brink, too, think a potential jail expansion should be put on hold — at least for now.
County elected officials, just before the COVID-19 shutdown, hired RQAW, a Fishers-based engineering firm with a local office, to conduct a study to see if the jail should be expanded — and if so, by how much — as well as whether community corrections should be moved from its current, downtown location and joined with a larger jail.
Ellerman has taken issue with a number of aspects of the project already, specifically the hiring of RQAW — he doesn't consider it to be a "local" firm — and the possibility of selling bonds to fund the project.
He now worries about the impact COVID-19 will have on the local economy — and he sees no reason why the county should take on more debt right now.
"We're going to take a hell of a hit on money coming in," he said of tax revenue. "Every business is going to take a hit. A lot of people are laid off, not paying taxes."
He even proposes suspending what's commonly called the "jail tax" — an income tax that was recently reinstated by the county council in an effort to fund a possible expansion — until more light is shed on what impact COVID-19 will have on Knox County government.
"Let's set a date, six months, a year from now, and come back and look at it then," he said.
Brink agrees that the county should focus on saving money, not spending it.
"Cities, counties everywhere are putting money back, and those who don't are going to wish they had," Brink said. "We just cannot bite off anymore."
But he also worries that, as other Hoosier counties look to build new jails or expand the ones they have, the need for housing federal inmates — a major revenue source for the county — could go away.
"I think we'll lose some of those inmates," he said. "So the problem I see is, 'Do we still need it?'"
The two do differ, however, on the possibility of giving money to Andy and Angie Barmes, a local couple looking to transform the old poor farm into a hospice house.
The commissioners recently gave the deed to the 140-year-old Victorian building on Hart Street Road to the couple and, most recently, also voted to back it up with a one-time gift of $250,000 to help with renovations.
That, at least as far as the commissioners go, is a done deal, although the county council will have to approve it.
Ellerman has been a vocal proponent of supporting the Barmeses; both he and Andy Barmes are local contractors.
The building has sat empty and been neglected for far too long, Ellerman argues, and it's largely the commissioners' fault for the deteriorated state the building is in.
"It's a one-and-done deal," Ellerman said of the commissioners' vote to give to the Barmeses the money. "Andy knows he'll have to have fundraisers to finish it.
"But this is a good thing. I think a hospice house is something that will benefit the entire county."
Brink, however, disagrees with the commissioners' decision to fund repairs — and he would be adamantly against any future request.
"They knew what they were getting," he said of the Barmeses. "I've heard nothing but good things about them, but $250,000? That's very concerning."
He doesn't deny that county elected officials are responsible for the condition the building is in — but he can't "fix past problems," he said.
"I can't fix mismanagement from years past," he said. "It's deteriorated to the point where I don't know if it can be saved. And if it can, at what cost?
"I'm just not in favor of spending any money on it."
Ellerman, too, said if re-elected, he would be excited to see through to completion a project he claims to have started the process on years ago — a redesign of Elkhorn Road, specifically it's intersection with U.S. 41.
A year ago, the county was awarded $3.2 million in Federal Highway Administration construction funds, which are administered through the Indiana Department of Transportation, to tackle improvements on Elkhorn Road in an effort to make the area safer, what with all the industrial traffic coming and going from the U.S. 41 Industrial Park.
The project — originally set to get under way in the summer of 2021 — will essentially be a total rebuild of the portion of the road from U.S. 41 to the CSX Railroad crossing. It will be widened, visibility improved, and include a major upgrade to the intersection with Old Decker Road.
But the state is embarking on its own redesign of the intersection there, possibly in 2023, so there is talk of waiting even longer to combine the two projects.
Either way, it's a project near to Ellerman's heart.
"I'd like to see that get done," he said, adding that continued delays have caused him frustration. "We've dodged so many bullets out there. There have been many wrecks with all the people coming and going.
"It's a ticking time bomb."
Brink has his own goals if elected to the seat.
Among them, he'd like to repair the county's relationship with the Knox County Development Corp.
The county last year cut its annual financial contribution to the KCDC by half to funnel those dollars, instead, to the Pantheon.
Brink would like to see that contribution fully reinstated.
"We need good paying jobs," he said. "So we need to get back with the KCDC. that's what the KCDC does.
"So let's get back to focusing on what that (organization) is supposed to be doing."
Brink, too, said he would like to see more civility brought to the commissioners.
It's no secret that Ellerman is often at odds with his two colleagues, commission president Kellie Streeter and Trent Hinkle.
The commissioner's race two years ago got especially nasty, largely geared toward toward the development of the Pantheon. Ellerman, according to campaign finance reports, was the largest contributor to Streeter's opponent, Stacy Allen.
The "nastiness of that race," Brink said, is what prompted him to throw his hat back into the political ring.
"This is Vincennes, not Washington, D.C.," Brink said. "We don't have to be like that.
"We can and need to be more civil with one another."
Brink wants to bring a sense of "communication and cooperation" he believes is currently missing.
"As much as I'm shaking my head at the Pantheon, I don't want to shut the door completely," he said. "We may find we want to work with them, down the road, on another project."
And Brink said he'd also like to take the commissioners' meetings to other, outlying areas of Knox County.
"I think, once per quarter, we need to take it on the road," he said of the meetings, which are typically held in the courthouse. "Let's go to Oaktown or to Bicknell or Monroe City.
"Why do (residents) keep having to come to Vincennes? Let's take the meeting to them."
Early voting is underway at the Knox County Courthouse, specifically inside a special tent erected on the lawn.
Primary Election Day is Tuesday.