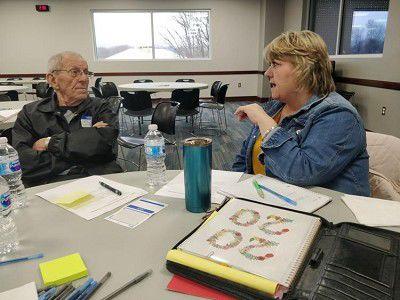 NEW ALBANY — Members of a newly formed group to address homelessness and affordable housing in Southern Indiana are narrowing down their priorities.
Haven House Services Inc. held the second meeting for the group Wednesday at Prosser in New Albany; the first meeting was in Jeffersonville and subsequent ones are planned for Charlestown, Scottsburg and Madison.
More than 100 people attended the first meeting in January, which was part panel discussion and part group work on addressing issues, barriers and solutions. At Wednesday's meeting, attendees broke into groups to identify the top five priorities they want to come out of this initiative.
Topping the list is community engagement — educating the public, reducing "not in my back yard" attitudes when it comes to adding affordable housing or permanent supportive housing, and changing community and political will.
Barb Anderson, executive director at Haven House Services Inc., said this is a hurdle that needs to be overcome first to allow other work to be done.
"If number one is not met, nothing is going to happen," she said. "We have to change the community's idea of what affordable housing looks like, and who it's for, and what it's about.
"Because if we don't, we're not going to have it."
Second on the list is creating more transitional and temporary housing, followed by education — both to teach the public and help those who are experiencing homeless gain skills to help them break the cycle. Anderson said the fourth objective is to deal more realistically with poverty — identifying demographics and developing "more humane solutions.
The fifth objective is to come up with a three-year plan to address the issues.
"That was a good, meaty five," Anderson said. "It's a pretty workable list, but you grow in baby steps."
Prior to breaking into groups, Anderson led a discussion among the several dozen people in attendance on issues ranging from availability of affordable housing in Southern Indiana to who can actually afford it and funding. They also broke down demographics of those experiencing homelessness here and how it's shifted over time.
She told the story of a woman who had to pay almost $3,000 at once to get settled into an apartment that rents for $850 a month, with payment of first and last month's rent and deposit required. She said that while about 70 percent of the people who come through the Jeffersonville shelter Catalyst Rescue Mission, formerly Haven House, have some type of income, much of it is well below the line for affording even "affordable housing."
"These people are expected to be independent in our community and it's impossible," Anderson said, adding that "Everybody's very enthusiastic and they enjoyed the discussion. I think it's long overdue."
Carol Marsh, case manager for Salvation Army of Madison, was among those representing multiple counties in Southern Indiana. She said that while there are some people with mental illness experiencing homelessness, "Our homeless population is primarily caused by addiction," she said. "We are a little river town that has the same issues that cities do."
She said she was glad to be able to collaborate with people from around the region on an issue that affects so many in systemic ways.
"I think the best thing about this forum for me has been that there's been so many people with such different ideas and we can all come together and mix our ideas," she said. "It gives you I think such a broader view of the problems that we have, the reasons that we have these problems and how to better get a solution."