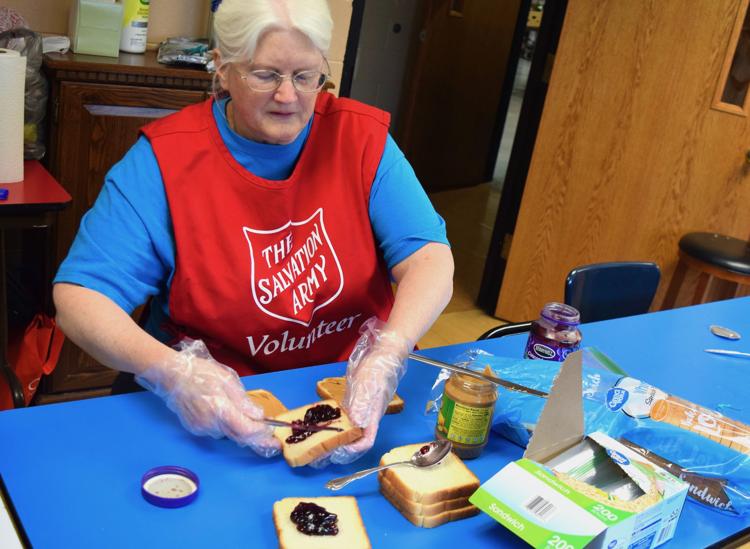 Local schools and organizations are working hard to feed those in need in the wake of the ongoing COVID-19 shutdown.
Beginning next week, officials with Sodexo Campus Services and the Vincennes Community School Corp. will begin offering curbside pickup on Monday mornings.
The box will contain enough meals, according to VCSC superintendent Greg Parsley, to give each student enough food for breakfast and lunch for five days — 10 total meals, a mix of perishable and non-perishable items.
Parents and guardians will be able to pick up the meals — they will be free to anyone under the age of 18 — from 9-11 a.m. at five sites: Washington school, 2134 Washington Ave., Tecumseh-Harrison Elementary School, 2116 N. Second St., Francis Vigo Elementary School, 1513 Main St., James Whitcomb Riley Elementary School, 1008 11th St., and Lincoln High School, 1545 S. Hart Street Road.
"People will be able to drive up using those bus loops or pickup areas, open their trunk or door and quickly receive a box of food," Parsley said.
The school corporation will work with Sodexo to provide those meal boxes every Monday morning until school is scheduled to begin again on May 1.
Parsley, too, said for those students whose parents can't arrange transportation during that window of time on Monday mornings, corporation officials will somehow arrange for delivery.
"If we have hardship cases," Parsley said, "we are prepared to work through those."
Officials with the North Knox School Corp. on Wednesday launched a similar curbside program in partnership with their food-service provider, Aramark.
Superintendent Darrel Bobe said they started on Wednesday yet they will now shift to Mondays moving forward.
On that first day, he said, they served about 300 students, and they expect that number to go up.
"It went extremely well," Bobe said.
Pickup will be from 11 a.m. to 1 p.m. on Mondays at the Primary School, 215 E. Fourth St., Bicknell.
Each North Knox student, per federal guidelines, must provide a name and a grade level — which is then checked off a list — just to prohibit duplication.
The boxes, just like VCSC, will include five breakfasts and five lunches.
Officials at South Knox are also working on a plan to help feed those in need while school is out of session.
Superintendent Tim Grove said he is working with parishioners at Monroe City Church of God, the Wheatland Christian Church and Community United Methodist Church to distribute meals.
"We will be reaching out to our families to see who wants to participate," Grove said, adding that the program is set to get underway on Wednesday.
It will be a similar setup, Grove said, in that meals will be offered as "grab and go" boxes.
Distribution will be from 11 a.m. to 1 p.m. on Wednesday at the middle high school as well as both the Monroe City Church of God, 4930 S. DeBord Road, and the Wheatland Christian Church, 330 Indiana 550.
They're also hoping to select a fourth site in the Decker area, and additional dates could be added.
Officials with the Salvation Army, 2300 N. Second St., have been gathering every morning and putting together as many as 50 paper bag lunches to give away to the kids and elderly living in the city's north end.
Salvation Army Lt. Laura Lunnam said they are also moving full steam ahead with their food pantry; they've just modified how people go about picking it up.
Residents in need will be able to drive to the building's back door between 1-2:30 p.m. on Mondays, Tuesdays and Wednesdays and pick up a prepared box of food items.
And, at least for now, there is plenty of food to go around thanks to some local donations.
"The supply is good," she said. "But we do need kid-friendly food, things like macaroni and cheese, spaghetti and cereal.
"We're just taking it day by day," she added, "doing whatever is best for the community. If we have to start delivering food, then that's what we'll do."