Patricia Kay Gegenheimer
Patricia Kay Gegenheimer
Patricia Kay Gegenheimer, 79, of Vincennes, passed away at 6 p.m. on Wednesday, January 22, 2020 at the West River Health Campus in Evansville.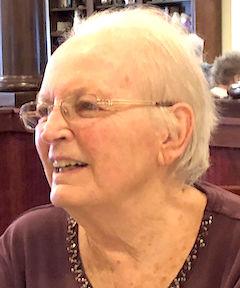 She was born June 23, 1940 in Portland, Indiana, to George Thomas and June (Morrical) Denney. Kay retired from Vincennes University as chair of the Reading Department and was a supporter of the Knox County Child Abuse Prevention Program. Prior to starting at Vincennes University, she taught at Frankfort, Greensburg, North Knox and at Head Start. She was active in the Old Town Players and started the Women in Transition Program. In her free time Kay loved to read, travel, and spend time with her grandchildren.
Surviving are her husband, Jerry W. Gegenheimer, whom she married on Sept. 3, 1960, in Dunkirk; her daughters, Laura Barker and her husband, Daryn, of Floyds Knobs, and Julie Prather and her husband, Mike, of Greenfield; her brother, Don Denney and his wife, Jeanette, of Winter Haven, Florida; and her grandchildren, Daniel Barker and his wife, Hannah, of Houston, Ashlyn Barker of Sellersburg, and Kelle Prather of Indianapolis.
She was preceded in death by her parents and a son, Jay Gegenheimer.
Funeral services will be 10 a.m. on Monday at Goodwin Funeral Home, 524 Broadway St. with Rev. Ray Tromley officiating. Entombment will be in the Tower Mausoleum II at Memorial Park Cemetery. Visitation will be 2-6 p.m. on Sunday at the funeral home. In lieu of flowers, memorial contributions may be directed to the Vincennes University Foundation Scholarship Fund for non-traditional students.
PENDINGS
Virgil D. Maurer, 82, of Oaktown, passed away on Friday, Jan. 24, 2020, at Good Samaritan Hospital. Arrangements are pending at Fredrick & Son McClure-Utt Funeral Homes, Oaktown Chapel 
Janice Pennington Richter, 79, of Edwardsport, passed away on Friday, Jan 17, 2020. Arrangements are pending at Fredrick & Son McClure-Utt Funeral Homes Bicknell Chapel.
FUNERALS
Cavanaugh, Barbara Ann, died Nov. 7, 2019. Services: 2-5 p.m. today at The Harmony Society, 111 N. Second St..
Duesterberg, Virginia L., died Dec. 24. Services: 10 a.m. today at St. John the Baptist Catholic Church, 803 Main St. Burial: Mount Calvary Cemetery. Memorials: Christian Education Foundation, 229 Church St., Vincennes, IN 47591; the Cystic Fibrosis Foundation, Rocky Mountain Chapter, Suite 810, 400 S. Colorado Blvd., Denver, CO 80246; or the Daniel J. Duesterberg Scholarship Fund, in care of the Department of Economics, Indiana University, Bloomington, IN 47405.
Houck, Daniel Sr., died Jan. 15. Services: 1 p.m. CST today at the Emmons Macey Steffey Funeral Home in Lawrenceville, Illinois. Burial: Price Cemetery in Russellville, Illinois. Visitation: noon CST until the hour of services today at the funeral home.
Koenig, Steven R., died Jan. 21. Services: 1 p.m. today at Fredrick and Son McClure-UttFuneral Home, Bicknell Chapel. Burial: Bethel Cemetery. Visitation: 11 a.m. until the hour of services today at the funeral home. Condolences: www.fredrickandson.com.
Miller, Patricia A., died Jan. 14. Services: 3 p.m. today at Duesterberg-Fredrick Funeral Home, 521 Vigo St. Memorials: Schnauzer Rescue Group, 1930 King Richard Parkway, Miamisburg, OH 45342. Condolences: www.duesterbergfredrick.com.
Pruitt, Etta Marie, died Jan. 18. Services: 5 p.m. on Sunday at Duesterberg-Fredrick Funeral Home, 521 Vigo St. Visitation: 2 p.m. until the hour of services on Sunday at the funeral home. Memorials: Gentle Care Nursing Facility, 1202 S. 16th St., Vincennes IN 47591.
OBITUARY GUIDELINES
Obituary information should be submitted through a funeral home. An individual may submit an obituary but must pay in advance and provide The Sun-Commercial with a copy of the death certificate of the subject.
A cost estimate can be provided in advance of publication upon request.
The deadline for submitting an obituary for Tuesday through Friday editions is 4 p.m. Eastern time the preceding day. The deadline for Saturday editions will be 5 p.m. on the preceding Friday.
Submit obituaries at obits@suncommercial.com.
The Sun-Commercial offers both a free and paid obituary option.
Free obituaries are published for current residents of Knox County and Lawrence County, Illinois, and include the following information:
• Name, age, city or town of residence and date of death.
• Occupation or last place of employment if retired.
• Military service.
• Church membership.
• Survivors: Spouse or partner, children, parents, and siblings, with step- and half-relatives included.
• Time, date and location of visitation, funeral and burial.
• One memorial contribution.
• Web site at which online condolences may be made.
• Free obituaries are available only within two weeks of the date of death.
Paid obituaries may contain additional information and can be published for current as well as former residents of the area. Prepayment may be required for obituaries of former residents from outside the area.
Submitted obituaries will be formatted to comply with both The Sun-Commercial and Associated Press publication styles. An example of the formatting is available upon request.
Additional information included in a paid obituary may include:
• A life history such as date and location of birth, parents' names, wedding date and spouse's maiden name, educational attainments (high school, college degrees, etc.), work history, awards and honors received, hobbies and favorite activities, memberships in clubs, organizations and associations, expanded military service record, etc.
• Additional survivors and their spouses, partners or companions (who will be listed as "John Doe and his wife, Jane, of Everytown, Illinois.").
• Those who preceded the subject in death and their cities or towns of residence if desired.
• Notes of thanks or appreciation to caregivers or facilities.
• Additional memorials.
A photo of the deceased may be added for a $10 charge; a second photo of the deceased may be added for an additional $10. The Sun-Commercial reserves the right not to publish photos of poor quality or that are in bad taste.
Obituaries will be uploaded to The Sun-Commercial web site at www.suncommercial.com.
For more information contact Gayle R. Robbins at 812-886-9955, ext. 2449 or at grobbins@suncommercial.com.