Mary Lou Collins, Larry L. Dunkerly, Ashley D. Fox, Edward Dean Horn
Mary Lou Collins
Mary Lou Collins, 79, of Vincennes, passed away on Friday, April 24, 2020 at the Good Samaritan Hospital.
Mary Lou was born on March 11, 1941 in Daviess County, the daughter of Warren and Rosella Seng Hart. She was a graduate of Washington High School and worked at Gossards in Bicknell until her retirement. She was a member of St. James Episcopal Church and was a devoted wife, mother, grandmother, great-grandmother and friend. She married Donald R. Collins on Nov. 23, 1968 and they made their life together for almost 52 years.
Mary Lou is survived by her husband, Donald R. Collins; their son, Eric Collins and his wife, Anna, of Vincennes; their grandchildren, Ashley Collins, Ty Mullins, Joboa Mullins and Crystal Kline. She was also blessed by her great grandchildren, Nicholas Thorne, Peyton Mullins, Isabella Kline, William Anderson, Amaya White and Alliana Cox.
Mary Lou was preceded in death by her parents, a sister in infancy, Phyllis Hart, and a half brother, Bruce Hayes.
A gravesite service will be 2 p.m. Tuesday at Asbury Chapel Cemetery with Father John Gedrick and Father Dennis Latta officiating. She will be laid to rest next to her parents. Memorial contributions can be made to Welsh Diabetes Center at Good Samaritan Hospital or the Vincennes Animal Shelter. Duesterberg-Fredrick is honored to assist the Collins family during their time of loss.
Online condolences may be made at www.duesterbergfredrick.com.
Larry L. Dunkerly
Larry L. Dunkerly, 81, of Brownsburg, went to be with his Lord on Wednesday, April 22, 2020.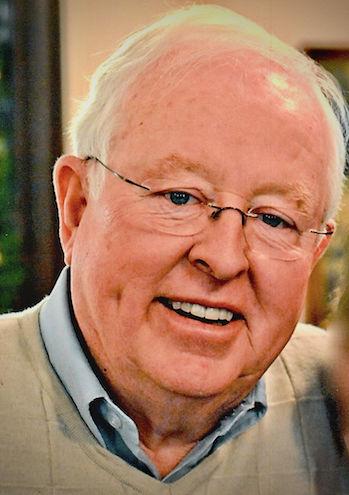 He was born and raised in Freelandville and had been a home builder and real estate developer in the Brownsburg area for many years and was a long-time active member of Calvary United Methodist Church. Larry received his bachelor's degree in industrial engineering from General Motors Institute. Larry was a faithful servant who was the guiding force and patriarch of his family and was loved by many. A man of integrity willing to help anyone in need, he loved to travel, play bridge and garden, but most of all, he loved his family.
A loving husband, father, and proud grandfather, his survivors include his wife of 57 years, Judy Dunkerly; their children, Melissa Cawi and her husband, Mark, and Tom Dunkerly and his wife, Holly; a sister, Elizabeth Telligman; and grandchildren Grace, Grant, Serena, Jillian, Carter, Lily, Austin and Olivia.
He was preceded in death by his parents, Barton and Alice Dunkerly; a son, Steven Dunkerly; and a sister Carolyn Hislip.
Due to health concerns and current COVID-19 restrictions, private family graveside services will be held at Brownsburg Cemetery, with a public celebration of life service to be held at a later date. Memorial contributions may be made to Calvary United Methodist Church, 575 W. Northfield Drive, Brownsburg, IN 46112.
Online condolences may be made at www.matthewsmortuary.com.
Ashley D. Fox
Ashley D. Fox, 34, of Bicknell, died on Saturday, April 25, 2020.
She had worked at Rescare.
Survivors include her parents, Steven Fox and April Levitt; a son, Victor Frye; siblings John Fox and Kayla Fox of Bicknell; and her companion Anthony McGregor.
Private graveside services will be held on Thursday at Memorial Park Cemetery. Anyone wanting to watch the service can do so on Goodwin-Sievers Funeral Home Facebook page and will be notified when it goes live.
Online memories may be shared with Ashley's family and friends at www.goodwinsieversfh.com.
Edward Dean Horn
Edward Dean Horn, 78, of Bicknell went to his heavenly home on Thursday, April 23, 2020.
Ed was born in Benton, Illinois, on April 2, 1942 to the late George Horn and Mildred (Boyer) Horn. He was a member of Word of Life Church of Bicknell, where he and his wife enjoyed the fellowship of their church family. He was veteran of the U.S. Navy and served his country proudly. Ed was a member of the American Legion and Masonic Lodge. He was an avid outdoorsman who enjoyed hunting, fishing, and just simply being outside; he also had many other interests and hobbies. Ed was a man of many talents, he was able to do basket weaving, home renovations, and was a locksmith at one time, just to name a few of his trades. Ed was primarily employed by Amax Coal Mine then later retired from operating heavy equipment for road construction. 
Ed leaves behind his loving wife of 55 years, Dina (Milligan) Horn; a son, Joe Horn and his companion, Karen Moyes; a daughter, Debbie Horn; five grandchildren, Brianah Jones, Samuel Horn, Kaylee Horn, Cole Garner, and Reid Slaven; a brother, Calvin F. Horn; and several nieces and nephews. 
In addition to his parents, Ed was also preceded in death by an infant son, Jay Dean Horn.
When Covid-19 restrictions are lifted there will be a celebration of Ed's life held at the Word of Life Church in Bicknell, 7144 Russell Drive. Please make memorial contributions to the church building fund.
Fredrick and Son McClure-Utt Funeral Homes, Bicknell Chapel is honored to serve the family of Ed Horn and would like to encourage that his friends and family show their support at this time by signing the online guestbook at www.fredrickandson.com.
FUNERALS
Hill, Burk B., died April 23. Private graveside services will be conducted on Thursday at Lawrenceville City Cemetery.Condolences: www.emmonsmaceysteffey.com.
Stevens, Ashley B., died March 22. A memorial service will be announced at a later date. Condolences: www.emmonsmaceysteffey.com.
Ziegler, Ruth, died April 18. Private services will be held at a later date. Condolences: www.goodwinsieversfh.com.
OBITUARY GUIDELINES
Obituary information should be submitted through a funeral home. An individual may submit an obituary but must pay in advance and provide The Sun-Commercial with a copy of the death certificate of the subject.
A cost estimate can be provided in advance of publication upon request.
The deadline for submitting an obituary for Tuesday through Friday editions is 4 p.m. Eastern time the preceding day. The deadline for Saturday editions will be 5 p.m. on the preceding Friday.
Submit obituaries at obits@suncommercial.com.
The Sun-Commercial offers both a free and paid obituary option.
Free obituaries are published for current residents of Knox County and Lawrence County, Illinois, and include the following information:
• Name, age, city or town of residence and date of death.
• Occupation or last place of employment if retired.
• Military service.
• Church membership.
• Survivors: Spouse or partner, children, parents, and siblings, with step- and half-relatives included.
• Time, date and location of visitation, funeral and burial.
• One memorial contribution.
• Web site at which online condolences may be made.
• Free obituaries are available only within two weeks of the date of death.
Paid obituaries may contain additional information and can be published for current as well as former residents of the area. Prepayment may be required for obituaries of former residents from outside the area.
Submitted obituaries will be formatted to comply with both The Sun-Commercial and Associated Press publication styles. An example of the formatting is available upon request.
Additional information included in a paid obituary may include:
• A life history such as date and location of birth, parents' names, wedding date and spouse's maiden name, educational attainments (high school, college degrees, etc.), work history, awards and honors received, hobbies and favorite activities, memberships in clubs, organizations and associations, expanded military service record, etc.
• Additional survivors and their spouses, partners or companions (who will be listed as "John Doe and his wife, Jane, of Everytown, Illinois.").
• Those who preceded the subject in death and their cities or towns of residence if desired.
• Notes of thanks or appreciation to caregivers or facilities.
• Additional memorials.
A photo of the deceased may be added for a $10 charge; a second photo of the deceased may be added for an additional $10. The Sun-Commercial reserves the right not to publish photos of poor quality or that are in bad taste.
Obituaries will be uploaded to The Sun-Commercial web site at www.suncommercial.com.
For more information contact Gayle R. Robbins at 812-886-9955, ext. 2449 or at grobbins@suncommercial.com.