Anne Marie Stephen
Anne Marie Stephen, 99, of Washington, passed away at 6:41 a.m. on Saturday, Jan. 11, 2020 at the Villages of Oak Ridge.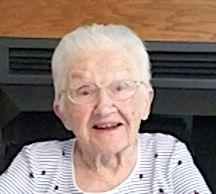 She was born on July 15, 1920 in Duluth, Minnesota, to Frederick and Pauline (Kempa) Iwanvsiw. Anne enjoyed being a homemaker and volunteered for the Catholic Women's Club at St. Victor Catholic Church in Calumet City, Illinois, served as a Girl Scout leader, and was a member of Our Lady of Catholic Church in Washington.
Surviving are her daughter, Janice Beesley and her husband, Bruce, of Washington; a grandson, Christopher Beesley of Columbia City; and her brothers, Joe Shuton of Wisconsin and Donald Shuton of Arizona. 
Preceding her in death were her parents; her husband, Lawrence Stephen, who preceded her on Feb. 18, 2018; a sister, Mary LeMieux; and her brothers, Walter Evans and James Shutoski.
A Mass of Christian Burial will be held at 11 a.m. on Wednesday at Our Lady of Hope Catholic Church with Rev. Paul Ferguson officiating. Burial will be in the St. John Cemetery. Visitation will be 10 a.m.until the hour of services on Wednesday at the church, In lieu of flowers, memorial contributions may be directed to Our Lady of Hope Catholic Church.  Goodwin-Sievers Funeral Home is honored to serve the family of Anne Marie Stephen.