Donna Lee Baum
Donna Lee Baum
Donna Lee (Cantwell) Johnson Baum, 80, of Vincennes, passed away on Thursday, March 19, 2020 at BridgePointe Health Campus.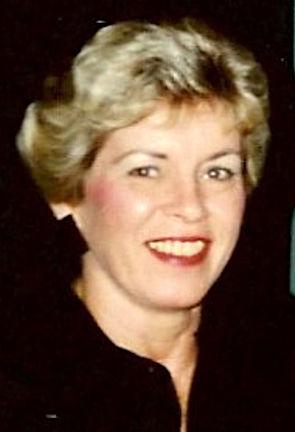 She was born on Nov. 16, 1939 in Knox County to Donald Lincoln Cantwell and Erma Grace (Enley) Cantwell. She grew up in Verne and graduated from Monroe City High School in 1957. After high school, she moved to Indianapolis and graduated from the International Beauty School in 1958 and Patricia Stevens Modeling School in 1959. She married Ben Johnson, the chairman of the physical education department at Vincennes University where he was also the track and cross country coach, in 1959. She later married to Jerry Baum, a regional and international mission watercolor artist, in 1991 and he survives. 
Donna is also survived by two children, Jerry Johnson of New York City, and Sherry Johnson Smith and her husband, Mike, of Vincennes; two grandchildren, Jasper Smith and Lincoln Smith of Chicago; three step-daughters, Catherine Newlin Bechtel, Jennifer Gieselman, and Julia Bauer; and seven step-grandchildren. Her brother in-law, William Johnson, of New York City, and sister-in-law, Sandra Lunney, of Hershey, Pennsylvania, also survive.
She was preceded in death by her parents; her ex-husband, Ben Johnson; her brother, Dr. Edgar R. Cantwell and his wife Betty (Phipps) Cantwell; her sister, Z. Jean Cantwell; her nephew, Mark Cantwell; and her niece, Crystal Cantwell.
After being a homemaker and stay-at-home mother when her kids were young, she later worked as receptionist for Drs. Hippensteel, Stewart and Combs, manager of Kings Food Host in Vincennes and Hilton Hotel in St. Petersburg Beach, Florida. She served as Catering Manager and General Manager for Bob Green Executive Inns in Vincennes, Evansville, Paducah and Owensboro, Kentucky, in the 1980s-90s. While married to Jerry Baum, she lived in Monterey, California, Santa Claus, and Vincennes.
Donna's memberships include Indiana Presbyterian Church, a lifelong member of Pals of Yesterday, Francis Vigo Chapter, DAR and the Grouseland Foundation. She founded the local chapter of Sweet Adelines (a ladies barbershop vocal group) in the 197os under the direction of Bessie Hatton; while married to Ben Johnson she was active in the local Jaycees and VU Faculty Wives club. She was designated as an honorary Kentucky Colonel by former Kentucky Gov. Martha Layne Collins. She was an adept organizer and spearheaded many events. She loved to play Bridge and started the first social Mahjong group in Vincennes. Donna had a love for the community and a passion for promoting historic Vincennes. She was instrumental in planning, fundraising, and supervising the design and installation of the "Tecumseh" monument on the Vincennes Riverwalk (sculpted by artist William Toth) and was awarded a certificate for "Chief Tecumseh Day" by the Mayor of Vincennes in 2009.  
Donna was also proud of her Lincoln family heritage. There are no direct descendants of President Abraham Lincoln; only cousins remain. Donna is a first cousin (four generations removed) to the President through her paternal grandmother, Sophia Lincoln Cantwell.  Donna enjoyed planning and hosting the annual Lincoln Family Reunions held at the Verne Store, and sharing family history.
Due to the current coronavirus pandemic, a memorial service for her will be announced at a later date. Memorial contributions may be made to the Knox County Community Foundation's "Cantwell Family Fund." Checks may be made to the foundation and mailed to 20 N. Third St., Vincennes, IN 47591. Please include her name or "Cantwell Family Fund" on the check. Goodwin-Sievers Funeral Home is honored to serve the family of Donna Baum.
FUNERALS
Jordan, Alan Wilber, died March 11. Services: 11 a.m. today at Fredrick and Son McClure Utt, Vincennes Chapel, 313 Church St. Burial: Oaktown Cemetery. Condolences: www.fredrickandson.com.
OBITUARY GUIDELINES
Obituary information should be submitted through a funeral home. An individual may submit an obituary but must pay in advance and provide The Sun-Commercial with a copy of the death certificate of the subject.
A cost estimate can be provided in advance of publication upon request.
The deadline for submitting an obituary for Tuesday through Friday editions is 4 p.m. Eastern time the preceding day. The deadline for Saturday editions will be 5 p.m. on the preceding Friday.
Submit obituaries at obits@suncommercial.com.
The Sun-Commercial offers both a free and paid obituary option.
Free obituaries are published for current residents of Knox County and Lawrence County, Illinois, and include the following information:
• Name, age, city or town of residence and date of death.
• Occupation or last place of employment if retired.
• Military service.
• Church membership.
• Survivors: Spouse or partner, children, parents, and siblings, with step- and half-relatives included.
• Time, date and location of visitation, funeral and burial.
• One memorial contribution.
• Web site at which online condolences may be made.
• Free obituaries are available only within two weeks of the date of death.
Paid obituaries may contain additional information and can be published for current as well as former residents of the area. Prepayment may be required for obituaries of former residents from outside the area.
Submitted obituaries will be formatted to comply with both The Sun-Commercial and Associated Press publication styles. An example of the formatting is available upon request.
Additional information included in a paid obituary may include:
• A life history such as date and location of birth, parents' names, wedding date and spouse's maiden name, educational attainments (high school, college degrees, etc.), work history, awards and honors received, hobbies and favorite activities, memberships in clubs, organizations and associations, expanded military service record, etc.
• Additional survivors and their spouses, partners or companions (who will be listed as "John Doe and his wife, Jane, of Everytown, Illinois.").
• Those who preceded the subject in death and their cities or towns of residence if desired.
• Notes of thanks or appreciation to caregivers or facilities.
• Additional memorials.
A photo of the deceased may be added for a $10 charge; a second photo of the deceased may be added for an additional $10. The Sun-Commercial reserves the right not to publish photos of poor quality or that are in bad taste.
Obituaries will be uploaded to The Sun-Commercial web site at www.suncommercial.com.
For more information contact Gayle R. Robbins at 812-886-9955, ext. 2449 or at grobbins@suncommercial.com.