Russel Franklin Apple
Russel Franklin Apple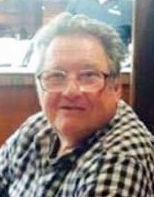 Rev. Russel Franklin Apple, 82, of Vincennes, passed away at his residence on Sunday, April 5, 2020.
Russel was born on April 17, 1937 to Russel Charles Apple and Laura Henrietta Von Gordan. He served his country in the U.S. Navy and was a evangelistic minister and machinist.
He is survived by his sons, David Apple, Russel Apple, and Sunny Apple of Tampa Florida, and Paul Nathaniel Apple and Jeremiah Samuel Apple of Knox County; as well as 16 grandchildren.
He was preceded in death by his children, Tammy Dineen Apple and Phillip Eugene Apple; his wife of 53 years, Anna Joyce Apple; and a grandson Mason Storm Apple.
A private graveside service was held on Thursday at Memorial Park Cemetery. Goodwin-Sievers Funeral Home is honored to assist the Apple family with arrangements.
Online memories may be shared with Russel's family and friends at www.goodwinsieversfh.com.
PENDING
Bill Shick, 74, of St. Francisville, Illinois, passed away on Thursday, April 16, 2020 at his residence.Arrangements are pending with the Emmons-Macey & Steffey Funeral Home in Lawrenceville, Illinois.
FUNERALS
Eads, Brian W., died April 14. Private services will be held. Burial: St. Lucas Cemetery in Fort Branch. Memorials: St. Lucas Church Cemetery Fund. Condolences: www.colvinfuneralhome.com.
Walden, Walter Carter, died April 11. A memorial service will be announced at a later date. Condolences: www.colvinfuneralhome.com
OBITUARY GUIDELINES
Obituary information should be submitted through a funeral home. An individual may submit an obituary but must pay in advance and provide The Sun-Commercial with a copy of the death certificate of the subject.
A cost estimate can be provided in advance of publication upon request.
The deadline for submitting an obituary for Tuesday through Friday editions is 4 p.m. Eastern time the preceding day. The deadline for Saturday editions will be 5 p.m. on the preceding Friday.
Submit obituaries at obits@suncommercial.com.
The Sun-Commercial offers both a free and paid obituary option.
Free obituaries are published for current residents of Knox County and Lawrence County, Illinois, and include the following information:
• Name, age, city or town of residence and date of death.
• Occupation or last place of employment if retired.
• Military service.
• Church membership.
• Survivors: Spouse or partner, children, parents, and siblings, with step- and half-relatives included.
• Time, date and location of visitation, funeral and burial.
• One memorial contribution.
• Web site at which online condolences may be made.
• Free obituaries are available only within two weeks of the date of death.
Paid obituaries may contain additional information and can be published for current as well as former residents of the area. Prepayment may be required for obituaries of former residents from outside the area.
Submitted obituaries will be formatted to comply with both The Sun-Commercial and Associated Press publication styles. An example of the formatting is available upon request.
Additional information included in a paid obituary may include:
• A life history such as date and location of birth, parents' names, wedding date and spouse's maiden name, educational attainments (high school, college degrees, etc.), work history, awards and honors received, hobbies and favorite activities, memberships in clubs, organizations and associations, expanded military service record, etc.
• Additional survivors and their spouses, partners or companions (who will be listed as "John Doe and his wife, Jane, of Everytown, Illinois.").
• Those who preceded the subject in death and their cities or towns of residence if desired.
• Notes of thanks or appreciation to caregivers or facilities.
• Additional memorials.
A photo of the deceased may be added for a $10 charge; a second photo of the deceased may be added for an additional $10. The Sun-Commercial reserves the right not to publish photos of poor quality or that are in bad taste.
Obituaries will be uploaded to The Sun-Commercial web site at www.suncommercial.com.
For more information contact Gayle R. Robbins at 812-886-9955, ext. 2449 or at grobbins@suncommercial.com.