Doris Albrecht Daugherty, Helen M. Emmons, Ray Frazier, Tara L. Theriac
Doris Albrecht Daugherty
Doris Albrecht Daugherty, 87, of New Lebanon, passed away on Monday, April 20, 2020, at her residence.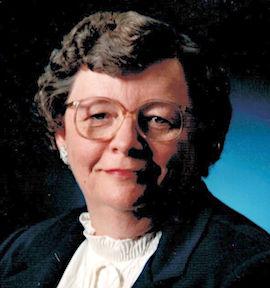 She was born in Knox County on Aug. 24, 1932, the daughter of Walter Albrecht and Hulda Nierste Albrecht. Doris married Robert G. Daugherty on Oct. 14, 1962. She graduated from Bruceville High School in 1950 and Vincennes University in 1952. Doris earned her bachelor's and master's degrees from Indiana State University. She was the controller of Vincennes University from 1953 to 1968. After her business career she became a farm wife helping Bob with their registered Jersey herd. She served on the Southwest Sullivan school board from 1987 to 1995. She was a member of the New Lebanon United Methodist Church. She had a wonderful sense of humor and made everyone who knew her feel blessed. She was extremely witty. One of Dori's most cherished memories was teaching her granddaughter, Brittany, how to cook. She was a role model to her family and to her friends. She will be terribly missed.
Survivors include her son, George W. Daugherty, of New Lebanon; three grandchildren, Damon Daugherty, Brittany Daugherty and her husband, Thaddeus Haussy, and Aaron Daugherty and his wife, Mackenzie; a great-granddaughter Amelia Rose; brother in-law, Charles Barker of Vincennes; and several nieces and nephews
She was preceded in death by her parents, her sisters, Ruth Virginia Albrecht and Kathleen Barker, and her husband of 49 years, Bob.
Family graveside services will be 10 a.m. on Friday at the Mt. Zion Cemetery with Rev Barbara Allen officiating. In lieu of flowers, memorial contributions may be made to the New Lebanon United Methodist Church. Envelopes will be available. Arrangements were entrusted to Brust Funeral Home.
Helen M. Emmons 
Helen Marie Emmons, 84, of Bicknell, died on Sunday April 19, 2020.
She had retired from RCA in Bloomington and was a member of the Bethany General Baptist Church in Bicknell.
Survivors include her daughter, Helen Scarber, and a sister, Bobbie Townsend.
Funeral services will be private. Duesterberg-Fredrick Wampler Shaw Chapel is honored to assist the Emmons family during their time of loss. Memorial contributions can be made to the donor's charity of choice.
Ray Frazier
Ray Frazier, 67, of Bridgeport, Illinois, died on Tuesday, April 20, 2020.
He had worked at Champion Labs and was a U.S. Air Force veteran of the Vietnam War.
Survivors include his wife, Sally Ann (Schwartzlose) Frazier; his son, Erick Frazier; and two sisters, George Watson and Pam Evans.
No formal services are planned at this time. Cunningham Funeral Home of Bridgeport is assisting the family with arrangements.
Online condolences may be made at www.cunninghamfuneralhomes.com.
Tara L. Theriac
Tara L. Theriac, 47, of Vincennes, passed away at 5:59 p.m. on Sunday, April 19, 2020.
She had worked at Cash-N-Dash.
Surviving are her father, Terry Theriac of Vincennes; her children, Haley Theriac, Morgan Stefancic, and Vada Theriac; and her siblings, Terri Theriac, Nathan Theriac, Crystal Ravellette, Dawn Ravellette, and Roger Ravellete Jr.
Private graveside services will be held Monday at Memorial Park Cemetery. Anyone wanting to watch the service can do so on Goodwin-Sievers Funeral Home Facebook page and will be notified when it goes live.
Online memories may be shared with Tara's family and friends at www.goodwinsieversfh.com.
PENDING
Wilma "Willie" Jean Wehrheim, 79, of Olney, Illinois, passed away on Tuesday, April 21, 2020 at Heritage Health in El Paso, Illinois. Arrangements are pending at the Sivert-Macey & Steffey Funeral Home in Sumner, Illinois.
FUNERALS
Gilliland, Denise L., died April 18. A private graveside service will be held at Walnut Grove Cemetery. Memorials: The Vincennes Animal Shelter. Condolences: www.jenkinsfuneralhomes.com.
Heuby, Sylvia Mae, died April 20. Services: 2 p.m. on Friday at Memorial Park Cemetery. Memorials: The American Fibromyalgia Syndrome Association Inc. at afsafund.org.
Pahmeier, Ruth Katherine, died April 19. A private service for immediate family will be held 1 p.m. today at Meng Family Funeral Homes, Anderson-Poindexter Chapel, in Linton. Visitation: For immediate family from 11 a.m. until the hour of services today at the funeral home. Memorials: Salem United Church of Christ, 13135 N. Salem Road, Westphalia, IN 47596. Condolences: www.andersonpoindexter.com
Potter, Donetta Jean, died April 20. Private graveside services will be held at a later date in New Veale Creek Cemetery in Washington. Condolences: www.goodwinsieversfh.com.
OBITUARY GUIDELINES
Obituary information should be submitted through a funeral home. An individual may submit an obituary but must pay in advance and provide The Sun-Commercial with a copy of the death certificate of the subject.
A cost estimate can be provided in advance of publication upon request.
The deadline for submitting an obituary for Tuesday through Friday editions is 4 p.m. Eastern time the preceding day. The deadline for Saturday editions will be 5 p.m. on the preceding Friday.
Submit obituaries at obits@suncommercial.com.
The Sun-Commercial offers both a free and paid obituary option.
Free obituaries are published for current residents of Knox County and Lawrence County, Illinois, and include the following information:
• Name, age, city or town of residence and date of death.
• Occupation or last place of employment if retired.
• Military service.
• Church membership.
• Survivors: Spouse or partner, children, parents, and siblings, with step- and half-relatives included.
• Time, date and location of visitation, funeral and burial.
• One memorial contribution.
• Web site at which online condolences may be made.
• Free obituaries are available only within two weeks of the date of death.
Paid obituaries may contain additional information and can be published for current as well as former residents of the area. Prepayment may be required for obituaries of former residents from outside the area.
Submitted obituaries will be formatted to comply with both The Sun-Commercial and Associated Press publication styles. An example of the formatting is available upon request.
Additional information included in a paid obituary may include:
• A life history such as date and location of birth, parents' names, wedding date and spouse's maiden name, educational attainments (high school, college degrees, etc.), work history, awards and honors received, hobbies and favorite activities, memberships in clubs, organizations and associations, expanded military service record, etc.
• Additional survivors and their spouses, partners or companions (who will be listed as "John Doe and his wife, Jane, of Everytown, Illinois.").
• Those who preceded the subject in death and their cities or towns of residence if desired.
• Notes of thanks or appreciation to caregivers or facilities.
• Additional memorials.
A photo of the deceased may be added for a $10 charge; a second photo of the deceased may be added for an additional $10. The Sun-Commercial reserves the right not to publish photos of poor quality or that are in bad taste.
Obituaries will be uploaded to The Sun-Commercial web site at www.suncommercial.com.
For more information contact Gayle R. Robbins at 812-886-9955, ext. 2449 or at grobbins@suncommercial.com.