C. Becky Ford Cox, 96, of Vincennes, passed through to a better life on Saturday, Jan. 11, 2020 at her home with family.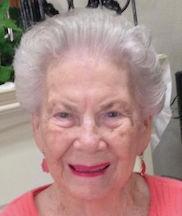 She was born on Dec. 8 1923 in Lawrenceville, Illinois, to the late Lindsay Ford and Alta Hannah Mills Ford. Graduating from Lawrenceville High School in 1943, she met her husband, Hershel W. Cox, in 1945 and they married in February 1946. Hershel passed away in 1993 and Becky  continued to live and enjoy life in Vincennes with her three children, Bob Cox, Jeanne Cox and Brian Cox, all currently of Vincennes, plus her granddaughter, Lisa Cox, of Los Angeles, her grandson, Andrew Cox, of Vincennes, and her beloved little Kitty Kat.
She is also survived by over a dozen nieces and nephews, children of her seven brothers and a sister, who all preceded her in death, including Leo Ford, Ellis Ford, Omer Ford, Juanita Ford Throckmorton Vanguilder, Ray Ford, Ralph Ford, Charles Ford, Marion Ford.
Mrs. Cox, a granddaughter of Civil War veteran George Washington Mills of Lawrence County, Illinois, was the last surviving member of the Ford/Mills family. She had been a member of the First United Methodist Church since 1950, serving in many voluntary capacities, including secretary-treasurer of the Home Builder's Class, and for several years as a part-time secretary to the church. She worked for Suttles Manufacturing in the early 1940s. She worked for the Vincennes Shopper part-time in the 1970s and '80s. She also had been a member of the YMCA Auxillary in the 1980s. She was the "Best Pie Baker" in Vincennes in 1980 in a contest sponsored by the Sun-Commercial. 
Becky will always be remembered for her style. Her children and friends will fondly remember that she wore classy, colorful, stylish clothes. Becky loved to walk, from her years growing up in Lawrenceville to current times; Becky walked until she was 90. As a young girl, Becky loved excelling in school, dancing, swimming and basketball. She deeply loved her family and her faith. She always wanted to be married and have children. She was what made the "Greatest Generation" so great.
There will be only a private family celebration of her wonderful life as she is put to rest in Fairview Cemetery. There will not be a funeral or visitation. However, memorial contributions may be made to the First United Methodist Church, 411 N. Fourth St., and the Knox County Humane Society, 405 Main St. Her daughter and brothers consider it a privilege to have been the children of Becky and Hershel Cox. Becky was a wonderful, wonderful mother. She is now with her "family" and her Creator.