Mark Taylor Jones, Donna Jean Parker, George Weinman Varns, Dorothy D. Young, Josefina Young
Mark Taylor Jones
Mark Taylor Jones, 61, of Bicknell, passed away on Friday, May 1, 2020, in Bicknell.  
Mark was born on May 25, 1958, in Vincennes, the son of Jack and Shirley Mae (Lowell) Jones. He worked as an agricultural assistant. Mark liked to garden and fish in his free time. 
Mark is survived by his daughter, Anne Goff and her husband, Jeff, of Bicknell; two grandchildren; and two brothers, Harold Jones and his wife, Jeana, of Wheatland, and Danny Jones his wife, Katie, of Sullivan.
He was preceded in death by his parents, Jack and Shirley Jones; a sister, Peggy Jones; and a brother, Tony Jones.
Per marks request he will be cremated and no services will be held. Memorial contributions may be made to the American Cancer Society. Arrangements were entrusted to Fredrick and Son McClure-Utt Funeral Home Bicknell Chapel. 
Friends me leave condolences for Marks Family at the Funeral Homes website www.fredrickandson.com.
Donna Jean Parker
Donna Jean Parker, 73, of Vincennes, passed away on Friday, May 1, 2020, at the Select Specialty Hospital in Evansville.
Born on Oct. 3, 1946, in Plainville, she was the daughter of Niles and Zella (Boyd) Dougherty. Donna had worked as a hair stylist in Bruceville early in her career. Later she worked in the machine trades department at Vincennes University.
Surviving are her companion, Scott Fischer; her children, Ryan Parker and his wife, Jennifer, of Oaktown, and Sherri McLaughlin and her husband, Wade, of Greenfield; her sister, Dixie Brunson, of Vincennes; her brother-in-law, Darrell Eaton, of Montgomery; and her grandchildren, Kennedy, Cora, Leigha, Evan, and Kelsi.
Her parents and her sister, Janet Eaton, preceded her.
A graveside service will be 11 a.m. on Thursday at Plainville Cemetery. A live Facebook feed will be available. Goodwin-Sievers Funeral Home is assisting with the arrangements.
Online condolences may be sent to the family through www.goodwinsievers.com.
George Weinman Varns
George Weinman Varns, 93, of Vincennes, died peacefully on Friday, May 1, 2020 at Colonial Assisted Living Community.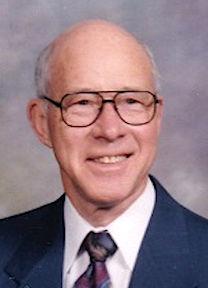 He was born on May 31, 1926 in Strasburg, Ohio, the son Wilbur and Olga Weinman Varns. George received his name because both of his grandfathers were also named George. He was the oldest of three children including a sister, Carol, and a brother, Bob. His father was a farmer until he was married when he took a job with a lumber mill.  After the 1929 stork market crash, he resumed farming.
George was baptized at St. John's Evangelical Church, which was one block from the family's first home. The Varn family always attended Sunday School and church. Their hard work ethic influenced George throughout his life and he continually strived to do his best in whatever he undertook. His education began in a one-room school house and later continued when schools closed and redistricting took place. His favorite subjects were history and music. He was small for his age and when larger boys picked on him, he took on the attitude of turning the other cheek. He continued this philosophy all through his life and found that it worked in all situations. 
In 1932 a young minster came to St. John's and it was his influence and the encouragement of a close friend that caused him to consider studying for the ministry. He enrolled at Elmhurst College in 1944 and eventually at Eden Seminary in 1947 where he immensely enjoyed all that his professors had to offer. It was during his seminary years that he began to nurture a long-lasting relationship with Ruth Voelm of Dover, Ohio. They were eventually married on June 18, 1950. Their first home together was in the parsonage at Lewisville, Ohio, where he was called as minister to three, one-room rural churches. He served there for 10 years and during that time they united the three churches as one. Also during their time there three of their children were born, Rachel, Nathan and Tom. 
In November 1960 George was called to Bethel United Church of Church in Freelandville, the largest rural U.C.C. congregation in the U.S. (650 members). For 18 years he served that church through many faith shaping events including the Vietnam War, youth group trips and church camp activities at Merom where he directed many summer camps. Also during that time, George presided over 304 youth confirmations, many marriages and funerals and two trips to India on mission projects. Two significant times for him in the community were when he was involved in the forming of a new care facility in Freelandville and his service on the North Knox school board. 
His faith journey took a significant turn in 1978 when he decided he needed a change in the direction of his life. During this time he became a consistent runner eventually running in over 18 marathons. In 1996 he ran in the 100th Boston Marathon 45 days before his 70th birthday. As part of his new life direction, he was offered a position with Vincennes University to work with disadvantage and disable students and provided leadership for this program during the next 13 years. In 1991 he retired from VU and was challenged to head up a new endeavor called STEP AHEAD, coordinating the services of all social service agencies in Knox County, volunteering for the next three years.
In 1995 George was invited to be a pastoral assistant at St. John United Church of Christ in Vincennes, working with the congregation for the next 10 years. Simply put, God has guided his life through family and friends, job opportunities, and travel experiences, and through many educational opportunities, world events and experiences in India, Ohio and Indiana. Through them he could constantly see the hand of God at work in the world. His legacy of love and open acceptance touched and influenced many lives throughout his 93 years. Of all the words of scripture that encouraged and guided him, his confirmation memory verse was his constant source of inspiration. Philippians 4:13 "I can do all things through Christ who strengthens me."
His family, Rachel Parker and her husband, Steve, of Grants pass, Oregon, Nathan Varns and his wife, Sophary, of Portland, Oregon, Tom Varns and his wife, Anne, of Bloomington, and Peter Varns and Brian Occoner of Chatham, Massachusetts, are profoundly grateful to be part of the legacy that George and his late wife Ruth gave them. Grandsons Theodore, David, Daniel and Andrew share many special memories with Grampy and Grammy and will miss the special attention they always received when visiting.
Special thanks to the staff at Gentle Care and most recently the staff at Colonial for their compassionate and kind care of Dad.
Due to the current COVID-19 pandemic, a celebration of George's life will be held at a later date. Burial will be at Bethel Cemetery near Freelandville. A Facebook page has been established in his name should any friends and family wish to share special memories. A memorial fund has been established for the Merom Camps and Retreat center where George spent many summers directing camps and being counselor. Contributions for Merom can be made through St. Johns United Church of Christ.
Dorothy D. Young
Dorothy D. Young, 88, of Vincennes, passed away at 7:10 p.m. on Sunday, May 3, 2020 at Good Samaritan Hospital. 
She was born Aug. 28, 1931 in Merom, to Roscoe and Louise (McCammon) Daugherty. Dorothy had worked at Orkin when she moved to Vincennes in 1975. She then worked as a switchboard operator and finished her career at Good Samaritan Hospital as a receptionist at the Health Pavilion. She enjoyed reading, sewing, bowling, playing cards, and traveling with her sisters.
Surviving are a son, Steve Young of Vincennes, and a sister, Norma Peterson of Woodlawn, Texas.
She was preceded in death by her parents; a sister, Nelda Morgan; and a brother, Darrell Daugherty.
Graveside services will be held at 11 a.m. on Wednesday at Merom Cemetery with Tim Thompson officiating. Goodwin-Sievers Funeral Home is honored to serve the family of Dorothy Young.
Josefina Young
Josefina "Josie" Young, 59, of Vincennes, died on Tuesday, April 21, 2020.
She was a member of Church on the Street
Survivors include two sons, Christopher John Jacobs and Charles Jeffery Jacobs.
A graveside service will be held at a later date. Fredrick and Son McClure-Utt Funeral Homes, Vincennes Chapel, is honored to serve the family of Josie.
Online condolences may be made at www.fredrickandson.com.

FUNERALS
Collins, Mary Lou, died April 24. Services: 2 p.m. today at Asbury Chapel Cemetery. Memorials: Welsh Diabetes Center at Good Samaritan Hospital or the Vincennes Animal Shelter. Condolences: www.duesterbergfredrick.com.
OBITUARY GUIDELINES
Obituary information should be submitted through a funeral home. An individual may submit an obituary but must pay in advance and provide The Sun-Commercial with a copy of the death certificate of the subject.
A cost estimate can be provided in advance of publication upon request.
The deadline for submitting an obituary for Tuesday through Friday editions is 4 p.m. Eastern time the preceding day. The deadline for Saturday editions will be 5 p.m. on the preceding Friday.
Submit obituaries at obits@suncommercial.com.
The Sun-Commercial offers both a free and paid obituary option.
Free obituaries are published for current residents of Knox County and Lawrence County, Illinois, and include the following information:
• Name, age, city or town of residence and date of death.
• Occupation or last place of employment if retired.
• Military service.
• Church membership.
• Survivors: Spouse or partner, children, parents, and siblings, with step- and half-relatives included.
• Time, date and location of visitation, funeral and burial.
• One memorial contribution.
• Web site at which online condolences may be made.
• Free obituaries are available only within two weeks of the date of death.
Paid obituaries may contain additional information and can be published for current as well as former residents of the area. Prepayment may be required for obituaries of former residents from outside the area.
Submitted obituaries will be formatted to comply with both The Sun-Commercial and Associated Press publication styles. An example of the formatting is available upon request.
Additional information included in a paid obituary may include:
• A life history such as date and location of birth, parents' names, wedding date and spouse's maiden name, educational attainments (high school, college degrees, etc.), work history, awards and honors received, hobbies and favorite activities, memberships in clubs, organizations and associations, expanded military service record, etc.
• Additional survivors and their spouses, partners or companions (who will be listed as "John Doe and his wife, Jane, of Everytown, Illinois.").
• Those who preceded the subject in death and their cities or towns of residence if desired.
• Notes of thanks or appreciation to caregivers or facilities.
• Additional memorials.
A photo of the deceased may be added for a $10 charge; a second photo of the deceased may be added for an additional $10. The Sun-Commercial reserves the right not to publish photos of poor quality or that are in bad taste.
Obituaries will be uploaded to The Sun-Commercial web site at www.suncommercial.com.
For more information contact Gayle R. Robbins at 812-886-9955, ext. 2449 or at grobbins@suncommercial.com.