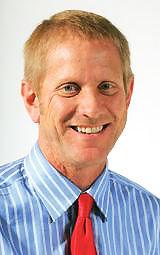 Maybe that day will come in fall.
Back-to-school sales. Friends gathered at a pub to draft players for their NFL fantasy leagues. Handshakes and hugs at churches on Sundays. Retirees debating the news over coffee in diners. College football games. Office workers sharing doughnuts on Friday mornings. Teachers helping a struggling student solve a math problem at the kid's desk.
It sounds blissful right now, because it sounds normal.
March 2020 hardly seems normal.
A "novel" coronavirus, COVID-19, has prompted states to shut down businesses and entities where people congregate for jobs, leisure and most "nonessential" activities. Events that have occurred uninterrupted for decades — from sports championships to elections — have been canceled or postponed. Schools and colleges are closed. Employees cope with unexpected layoffs. Toilet paper is hoarded.
"Sheltering in place" and "social distancing" keep us mostly home.
Once the pandemic ends, is it realistic to think that Hauteans, Hoosiers, Americans and earthlings will pick up right where we left off?
Ideally, lessons learned from the experience will change lifestyles for the better. Everyone hopes the precautions imposed will have limited the spread and impact of the virus, and health care will improve as a result. Idled workers and businesses, and shell-shocked investors may return to a staggered but wiser U.S. economy. Schools and colleges may become more technologically flexible because of the disruption forcing kids to continue their studies with e-learning digital devices.
History provides some perspective on how "normal" can evolve.
World War II altered life in America and beyond. With more than 15 million men serving in the U.S. military during the war in 1941-45, more than six million women filled previously male-dominated factory jobs, according to History.com. That wasn't normal. But it gradually became the new normal after the war.
"The face that women could do those jobs started pressure for women to move into different occupations than the ones they had previously been confined to, out of cultural customs," said Tom Steiger, professor of sociology at Indiana State University.
Today, women comprise 46.9% of the nation's workforce, according to the U.S. Bureau of Labor Statistics.
Last week, another aspect of World War II — rationing of goods — popped into the mind of Susan Tingley, executive director of the Vigo County Historical Museum. Tingley thought about the legacy of wartime rationing while she observed the people in long lines at the stores this month, buying items they feared would run out. By contrast, rationing forced Americans to use limited amounts of commodities like sugar, coffee, meats, cheese, milk, gasoline, tires, shoes, metal and paper. People planted "Victory Gardens" to feed their families, according to the National World War II Museum archives.
"That period lasted for over three years, and most people who lived through it were much more frugal for the rest of their lives," Tingley said. "While today we are not experiencing government-imposed rationing, the panic buying has resulted in some of us having to go without certain items. Will we come out on the other side of this pandemic with a better appreciation of how to make due with less?"
Tingley also pointed to an episode during World War I that seems relevant now. The "Spanish flu" pandemic in 1918, the war's final year, infected nearly one-third of the world's population and claimed 50 million lives, including 675,000 in the U.S. Afterward, many European countries adopted national health care systems, while the U.S. developed employer-based health care, Tingley explained.
"We'll learn from this [COVID-19] pandemic, as well," she said. "The question is not if our healthcare system in the U.S. will change after the coronavirus, but how."
People may rediscover the joys of cooking and eating at home, Steiger, the ISU sociologist said. And, with so many music, sports and theatrical events canceled, folks may find other ways to entertain each other. "People will play their own guitars — and learn to — and sing with family members and friends," Steiger said. "We will make up new games to play. Personally, I hope we start doing read-alouds."
Others may occupy their time in a way that addresses Vigo County's declining population problem.
"All this staying at home, no doubt, is going to lead to an increase in sexual activity," Steiger said, "and there may be a bit of a baby boom, especially after this ends.
"So we will get another youth explosion that will have a lasting effect on society, just as the baby boom post-World War II and the millennial generation has today."