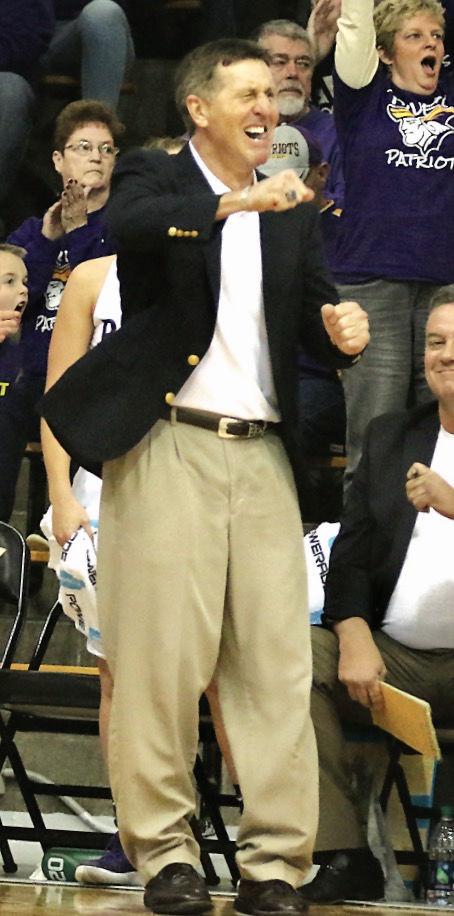 Tim Young will be returning to the coaching sidelines this fall.
But it will be in a different gymnasium and his players will be wearing different colored uniforms than was the case during his decade-long tenure as coach of the Rivet Lady Patriots, a run that included not just an overall 223-37 record but the Class A Indiana High School Athletic Association State Championship in 2011.
Young has been named the new girl's varsity basketball coach at Lincoln High School.
Not that he's unfamiliar with either Alice Arena the Lady Alices green and orange color scheme; his daughter, Nicole, starred for Lincoln and was a Sun-Commercial All-Area performer in 2009.
Young coached his younger daughter, Sara, at Rivet, where she was a three-time All Area performer and the Player of the Year in 2011.
Young's coaching history goes back to Benjamin Franklin Elementary School for three years and then nine years as Lincoln's boy's freshman coach. He coached under Gene Miiller and Steve Combs while with the Alices.
He took over the fledging Rivet program after serving two seasons as an assistant coach there.
A South Knox graduate, Young takes over for Travis Connor, who stepped down in March after his own 10-year run of coaching there Lady Alices.
Connor accumulated a 151-93 record during his tenure and guided Lincoln to four sectional championships and three Big Eight Conference titles.
The Alices were 19-5 this past season, falling short against eventual sectional champion Washington, 52-46, in the semifinals. The team returns 1,000-point scorer Maycee Lange (15.7 points per game), who was a double-double threat every time out as a 6-0 junior.
The Alices also bring back 5-7 sophomore Dani Kroeger (10.0) who elevated her offensive game as an efficient 3-point shooter. Freshman guard Gracie Kramer (5.3) was pushed into starter minutes with the injury to 5-5 junior Marissa Carmean, who returned late in the year.Another strong returnee is 5-10 sophomore Chloe Cardinal (8.4), who missed eight games with a foot injury.