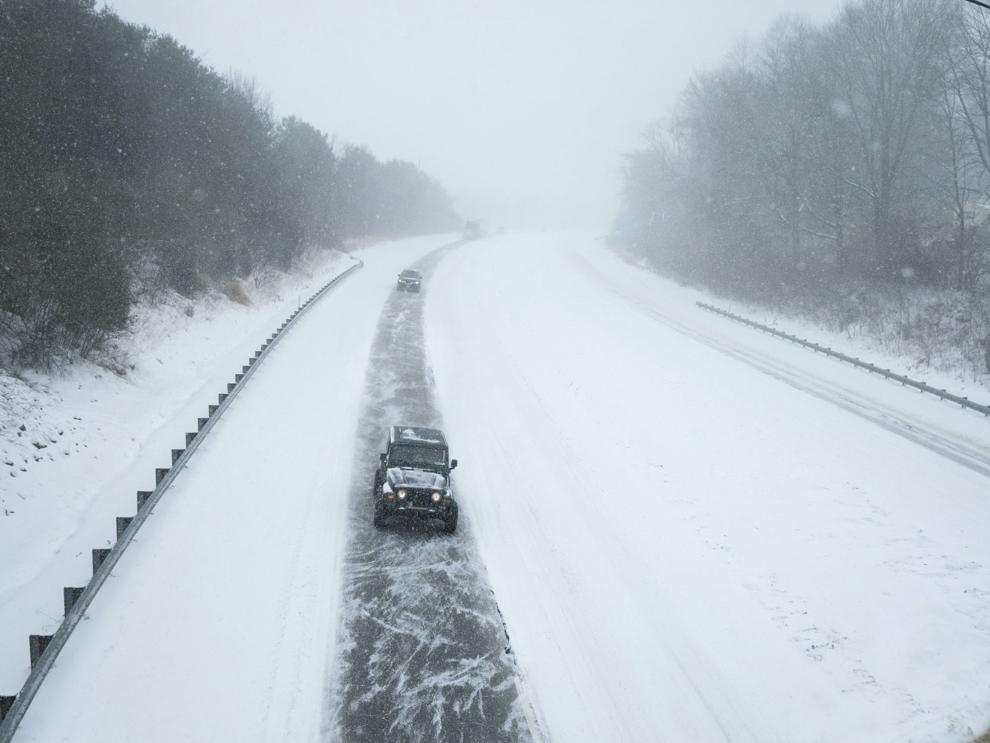 A winter storm that stretched across much of the South and Midwest moved through Knox County Monday, dropping nearly a foot of new snowfall and, once again, shuttering schools, causing slide-offs and forcing businesses to close.
The Knox County Commissioners Monday evening declared an emergency and downgraded the travel status to the most-severe red, which prohibits any unnecessary travel.
Only emergency personnel and essential workers, commissioner Kellie Streeter said, should be on the roads.
"We are asking everyone to stay home right now," she said, "unless you require emergent help."
"Our county roads are drifting over," she said even as another several hours of snowfall bore down on Knox County. "Many of them you can't even see right now."
Sheriff Doug Vantlin said deputies began responding to slide-offs Monday afternoon, including a semi-trailer that slid into the median on U.S. 41 just about a half-mile north of the Willow Street exit.
"We've worked a few slide-offs so far, and I know it's only going to get worse," he said. "State crews are out on 41, but they just can't stay in front of it. The county roads are beginning to drift shut; it would be difficult to get anywhere without a 4-wheel drive right now.
"It's bad and getting worse," he said. "People just need to stay home. That's what they need to do."
The red travel advisory and emergency declaration also closes all government offices, so the courthouse and Vincennes City Hall will be closed today.
It's unclear when they will reopen.
After getting about an inch of new snowfall overnight Sunday, the main event associated with this latest winter storm began moving through about noon on Monday, eventually bringing with it white-out conditions.
Andrew White, a meteorologist with the National Weather Service in Indianapolis, said they didn't expect snowfall to begin tapering off until about 2 a.m. today.
"And we're calling for the total accumulation over the two days to be about ten inches," he said. "It could be as much as 12."
Conditions were expected to worsen overnight as winds pick up; meteorologists are calling for sustained winds today of up to 20 mph with much higher guests possible.
Wind chill factors will make it feel as cold as minus five degrees.
Drifting, he said, is inevitable.
"This snow is light and fluffy," he said, "so it's going to be blowing around a lot. That's going to be the main concern throughout the day (today)."
White, too, said while the NWS hasn't issued a cold weather advisory, people should still be cautious.
"It's going to be cold and windy so not very fun for anyone outside," he said. "With this combination of snow and cold, have supplies, too, in your vehicle should you get stranded."
And it's not over yet.
Meteorologists are currently watching yet another winter system that will move into the area Wednesday night.
"We're not quite sure yet how that will line up," he said. "But you have a decent chance for more accumulating snow Wednesday and Thursday, possibly another 3-4 inches."
John Streeter, director of the Knox County Emergency Management Agency, said crews were working as fast as they could Monday to plow but were really unable to stay ahead of the snow — sometimes falling at rates of an inch or more per hour.
"Conditions are getting worse as we speak," he said Monday evening. "Crews with the state, the county, the city are all out working, but with the wind expected to be 25 mph tonight, it's going to drift.
"We're going to have some really bad road conditions (today)," he said.
Streeter encouraged everyone to stay home per the county's red travel advisory; those who do have to get out for essential work should "allow themselves plenty of time," he said.
"Go slow," he said. "Also, make sure that you are checking your water so your pipes don't freeze, be mindful of your utilities, and if you lose power, don't wait, call your power company as soon as you can."
Streeter also encouraged people to bring pets indoors if they haven't already.
Several businesses closed early on Monday. Good Samaritan, too, closed several of its facilities.
Some remain closed today.
The Knox County Health Department's COVID-19 clinic at Community United Methodist Church on Hart Street Road is closed again today as well.
Mayor Joe Yochum announced on Monday that trash and recycling collection is being suspended all week so crews can work on snow removal — which will be slow-going.
"We need to focus on the streets right now," he said. "And the best way you can help us do that is to not park on emergency snow routes. That makes it a lot easier for them to plow.
"And if you do park on a snow route, understand that you are probably going to be plowed in."
Yochum said every truck and dump truck with a blade was being used in the city's effort to clear the streets following the major winter storm.
They've ordered an additional 50 tons of salt in addition to the 100 tons ordered last week, he said.
"They're working hard, and they will continue to rotate shifts until this stops," he said. "If you don't have to be out, stay home, please. We are working, but this is going to be a constant battle until it quits."
Snow routes include Bayou Street from Sixth to Tenth streets, Washington Avenue from College Avenue to the U.S. 50 overpass, Bruceville Road from Wheatland Road to Hillcrest Extension Road, Wheatland Road from Sixth Street to city limits, College Avenue from Second Street to the YMCA, Willow Street from Second to Sixth streets, Hart Street from Second Street to the highway bridge by the VFW, Second Street from Willow Street to Niblack Boulevard, Main Street from Sixth Street to Ramsey Road, Sixth Street from Vigo to St. Clair streets, Niblack Boulevard from Second Street to Washington Avenue, Seventh Street from Willow Street to Washington Avenue, Red Skelton Boulevard from Second Street to Oliphant Drive, Tenth Street from Willow to Hart streets, St. Clair Street from Second to Sixth streets, 13th Street from Willow Street to Ritterskamp Avenue, Vigo Street from Sixth to Tenth streets, and 15th Street from Willow to Hart streets.
•••
Snow and ice blanketed large swaths of the U.S. on Monday, prompting canceled flights, making driving perilous and reaching into areas as far south as Texas' Gulf Coast.
The storm prompted officials in Houston, where temperatures were in the 70s earlier this week, to advise residents to prepare for power outages and hazardous roads that could be similar to those experienced in the wake of a Category 5 hurricane.
Significant ice and up to 12 inches of snow were expected Monday across parts of the southern Plains.
Winter weather conditions are affecting large portions of the U.S., but it is rare for them to extend so far south, meteorologists say.
Texas Gov. Greg Abbott, who issued a disaster declaration for all of the state's 254 counties, warned on Saturday: "All of Texas is facing an extremely dangerous winter storm."
Governors in Oklahoma and Arkansas, too, have activated National Guard units to assist state agencies with tasks including rescuing stranded drivers.
In a statement Sunday night, President Joe Biden also declared an emergency in Texas and ordered federal assistance to aid state and local response efforts. The declaration allows the Department of Homeland Security and the Federal Emergency Management Agency to coordinate disaster relief efforts and provide assistance, equipment and resources to those affected by the storm.
The weather, too, was affecting operations at airports across the area, with more than 760 flights canceled at Dallas-Fort Worth International Airport, and at Dallas Love Field most of the nearly 200 flights for Southwest Airlines, the airport's main carrier, were canceled.
American Airlines said about 345 of their flights were canceled at DFW Airport, its hub, by early Sunday afternoon. The airline said the storm was also affecting their flights across the region, with operations reduced and canceled at airports across Texas, Oklahoma and Arkansas.
Officials were discouraging travel in the wintry conditions. By early Sunday afternoon, the Texas Highway Patrol had reported several multi-car pileups in West Texas, including one that involved 25 vehicles and shut down a portion of Interstate 20 westbound.
The Oklahoma Highway Patrol said a portion of the Turner Turnpike was shut down due to a mutli-vehicle accident, while the Oklahoma Department of Transportation said the southern corridor of Interstate 35 was mostly snow packed in the left lane and conditions were expected to deteriorate.
In Memphis, Tennessee, snow had started falling, and while main roads were still passable, lines were forming at grocery stores as people rushed to stock up.
In Mississippi, sleet in Jackson and other central parts of the state left roads and bridges slick. Bill Parker, a National Weather Service meteorologist in Jackson, said up to three-quarters of an inch of ice could accumulate in central Mississippi, bringing the possibility of power outages or falling tree limbs.
Parts of Kentucky and West Virginia still recovering from an ice storm last week are expected to get up to a quarter-inch of ice or up to 8 inches of snow by today. About 19,000 customers remained without electricity in southern West Virginia and about 9,000 in eastern Kentucky on Sunday from the storm that moved through on Wednesday and Thursday.
Meanwhile, in the Pacific Northwest, tens of thousands of people were without power after a winter storm blanketed the region with ice and snow and made travel treacherous.
The Associated Press contributed to this report.