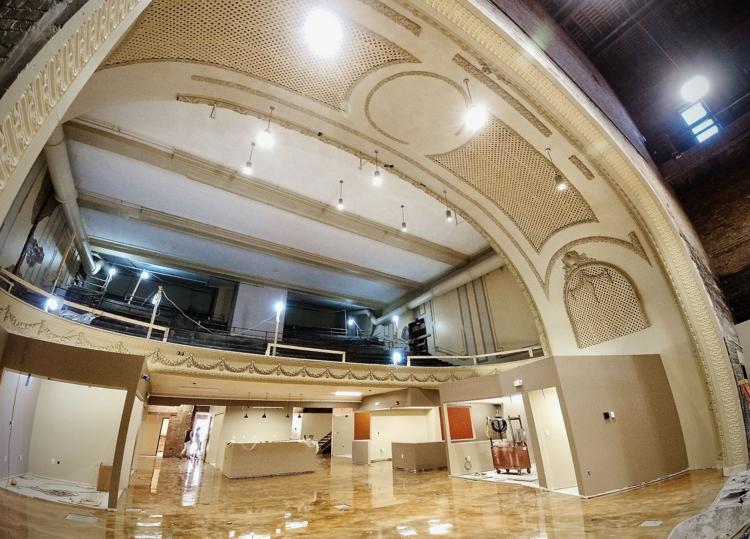 The final touches are being placed on the Pantheon: A Business and Innovation Theatre as the shared work space and small business incubator is set to be finished later this month.
Members of the Pantheon Board, the 5-member group overseeing construction, on Tuesday during their regular monthly meeting approved the purchase of $135,000 in furniture.
The contract, which was presented to the board by Pantheon executive director Nichole Like, was actually for just over $142,000, but board member and city councilman Brian Grove balked a bit at paying for all of it.
The Pantheon Board had budgeted just $135,000 for furniture as part of the $2.4 million overall cost.
Grove took issue with the fact that the furniture contract was over budget by $8,000 but, more so, because it was being awarded to an Indianapolis designer, Commercial Office Environments.
"We're going out of town for this?" Grove asked Like.
Grove went on to argue that there were local companies who could design the same kind of furniture but were never given an opportunity to submit a bid.
"This is a good chunk of change not to be local," he said.
But both Like and Pantheon Board member Steve Miller, who has actively been involved in construction, said the designs are very sophisticated.
They were done by Christopher Blice with Blice Edwards, commercial artists in Indinapolis.
Blice is from Vincennes originally, Like told the board, and has been active both in the design process and has offered his assistance in restoring some murals inside the historic theater later.
This furniture, she explained, was designed specifically for the building, and Blice used his connections with Commercial Office Environments to get a discount.
Miller, too, said they worked with architects with Myszak and Palmer Architecture and Development, Vincennes, on finding a local company to do the same work but "didn't come up with anything acceptable."
This contract, he said, is a "far superior outcome to anything we saw before."
Like added that they had "striven at every point to use local firms," during the project; the overall contract was awarded to Wolfe Construction, and many of the sub-contractors, like D&H Glass, have been local as well.
"We wanted commercial furniture that would last us decades, not years," she said.
Like also argued that the work Blice has done for free has likely saved the project "tens of thousands of dollars" so far.
Even still, Grove didn't like it.
"There will be questions I have to answer to," he said. "When I'm voting to spend this kind of money, I want it to be spent here."
Miller countered that while the budget "should be respected, so, too, should the amount of hours people have put into this project."
"We did try through our contractors and architects and take their suggestions on who to use," he said. "But the progress was not sufficient.
"So we went to someone who could get it done and did get it done."
Anticipating that there would be overages, officials with the Pantheon operating board — a separate, larger board set up to oversee daily operations once the Pantheon is up and running — sought a private donor to cover the $8,000.
"So it won't fall back on you," Like told the board. "We have private funding that will take care of that.
"That will not be the responsibility of this board," she reiterated.
Like added that all furniture planned for the Pantheon's entryway was removed from the bid package, which offered a savings of $4,000.
"We just decided to wait on that," she said.
The furniture contract includes everything from desks and chairs to filing cabinets and even conference tables and private meeting cubicles.
There is also a "3-D room" for which there is not yet any furniture.
The city, on behalf of the project, is seeking a federal grant to help pay for an exterior restoration of the Pantheon at 428 Main St. Also included in that grant, Like said, is equipment for that room, things like a 3-D printer, laser cutting machines and even a commercial-grade sewing machine.
"And if we don't get the grant, we will rethink how to move forward with that," she said.
Like had hoped to hear about the Economic Development Administration grant this summer, but announcements were likely delayed due to COVID, she said.
That total project cost — which also includes everything from new gutters to tuck-pointing and a new marquee — is $915,000.
When finished, the Pantheon will feature an open shared work space on its main floor as well as an event space on the former stage.
The second floor will have rentable office space, and the former balcony is being transformed into a lecture space.
The Pantheon is set to also have direct ties to Purdue University, specifically its Foundry, a large shared workspace in West Lafayette.