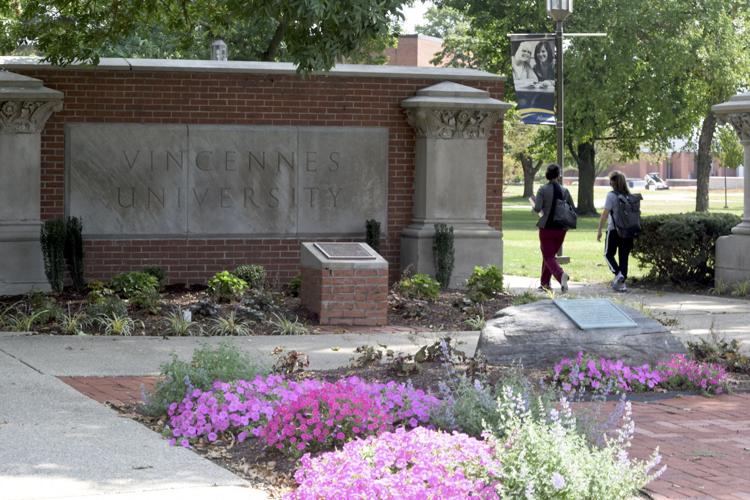 While enrollment at Vincennes University is down over last year, the institution is faring well, officials reported Wednesday, when compared to other universities across the country.
Sarah Fortune, the university's new director of external relations, gave an extensive enrollment report during the VU Board of Trustees' regular meeting — one held via Zoom — during which she said enrollment at 4-year colleges everywhere is down by an average of 20%.
Community colleges, ones similar to VU, she said, are down anywhere from 10% to 30%.
Enrollment at VU is only down by 10%, she said, with 5,454 students enrolled at this same time last year compared to 5,227 now.
As a point of interest, she said enrollment of Black students is falling but enrollment of Hispanic students is steadily increasing, with just two in 2018, 13 in 2019 and 16 this year.
The average Grade Point Average of incoming students is also increasing, she said, going from 2.8 in 2018 to 2.86 last year and 2.94 now.
The real point of concern, she said, is the number of students who express interest in VU — and apply — but don't actually enroll.
For this current fall semester, she said there were 858 students that applied but weren't actually admitted. The reasons, she said, could be many, perhaps an incomplete application, not following through on sending transcripts to admissions officials or even not being able to afford the $20 application fee.
Perhaps, she ventured, the university could do more to help.
"To me, when we're dealing with first generation students, we have an opportunity to assist these students," she said. "I think one thing we can do is explore more resources to provide the support they need."
The Vincennes campus' "yield rate" is also troublesome, she said. The yield rate is calculated based on how many students apply and are accepted versus how many actually enroll.
Currently, the yield rate for the Vincennes campus is just 34%.
One possible reason for that, she said, is that VU participates in a program called College Go, one where high school students practice applying for colleges by filling out many applications.
Those numbers, she indicated, are included in VU's yield rate.
"So I'm not sure we're getting accurate data," she said. "And we can't address this if we don't know how many students are actually interested in coming to VU."
By comparison, Fortune reported that Jasper's enrollment has increased by 15%, going from 467 students in 2018 to 529 this year.
Jasper's yield rate is also much higher at 79%.
"So we'll be working with the Jasper's admissions team to see what we can learn from them," Fortune told the board.
The university's distance education program saw its enrollment increase by 2% over last year, she said, but there is still much room for improvement as 64% of those that were granted admission didn't actually enroll.
"So we need to make sure we can get someone all the way from consideration to becoming a student on one of our campuses or in distance ed," she said.
VU officials, she added, will continue looking at ways to recruit new students and assist them in the application process. They're also looking to invest in a new software program that will automate the admissions process and allow for "better communications flow" between potential students and the university.
They also plan to evaluate things like campus tours and promotional materials to see if improvements can be made there, and more efforts will be focused on retention as the university loses as many as 100 students in the first few weeks of classes, Fortune said.
Some of the university's most popular programs, according to Fortune's data, continue to be nursing, homeland security, business management, machinery repair and aviation flight technology.
The programs with the largest enrollment gains over last year were aviation flight at 37%, technology at 26% and pre-veterinary technician at 29%.
Chemical science also saw a bump in enrollment.
David Tucker, the university's vice-president of workforce development and community services, also on Wednesday told the board of a new partnership with Amazon.
The university is now the site of an apprenticeship program for Amazon employees from all over the country, specifically in the fields of mechatronics and robotics.
Amazon, Tucker explained, has a need for at least 1,200 new mechatronics and robotics technicians per year for the next ten years, and VU will help to train them.
Amazon looked to VU, Tucker said, as they new VU's "strength in training and experience in apprenticeship programs."
"It just made sense to partner with us," he told the board.
The first group of 20 apprentice students graduated on Aug. 7, Tucker said, and have "all gone back to their respective fulfillment centers across America as level one technicians."
The university hopes to train as many as 300 Amazon apprentices per year with a goal of eventually raising that to 600.
"We're in talks with Amazon to double the program already," Tucker told the board. "They've come to us and asked, 'How many more students can you handle?'
"So, hopefully, we'll be able to double the population of Amazon students on our campus by 2021."
VU president Dr. Chuck Johnson called it a "tremendous opportunity for VU" and a program the first of its kind for the university.
And it's the result, he said, of "remaining nimble" in terms of higher education and moving "at the speed of business."
"This is the very thing higher ed should be doing," he said.