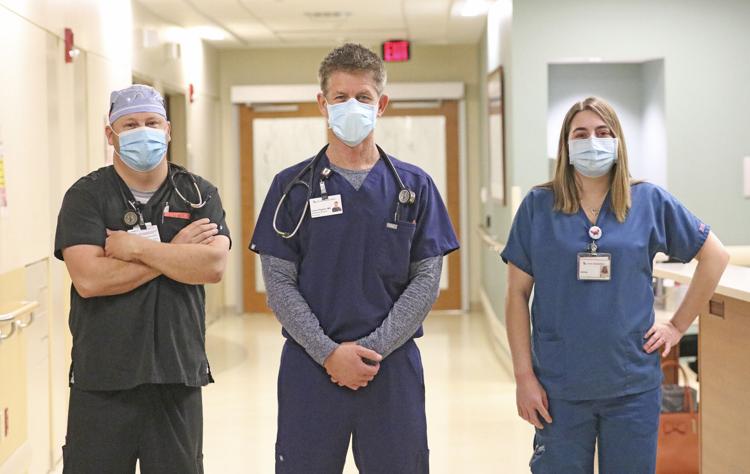 Every year as the clock winds down — as a new year and, with it, new possibilities approach — we begin to think not forward, but back.
Who — or what — in the last year has had the greatest impact on Indiana's oldest city?
It's a difficult decision, one about which we debate, sometimes even argue a little.
Who will we most remember?
What best defines the year we've spent as a community?
At the end of 2020, however, there was no debate. There was no arguing. There were no questions — there was only truth.
The answer was clear.
It's every physician who stayed up long into the night, reading, desperately searching for answers.
It's every respiratory therapist who watched the chest of a COVID-19 patient rise and fall, praying their efforts would somehow prevail.
It's every person who tidied rooms, changed bedsheets or scrubbed bathrooms.
It's every X-ray technician who, perhaps, held their own breath in anticipation of answers.
It's every caretaker that offered a word of love and connection to the outside world.
It's every nurse who held the hand of a dying stranger.
2020's Newsmakers of the Year are the health care workers on the front lines of the fight against COVID-19.
It's them that we honor.
"What they've done is overwhelming," county health officer Dr. Alan Stewart said of his fellow front-line health care workers. "They've worked and worked and then worked some more. They've been selfless. They've risked their lives.
"It reminds me a little bit of when AIDS first hit. We didn't know how that was transmitted and yet there were healthcare workers taking care of them when no one else would. These health care workers have worked knowing they could catch (COVID-19) at any time, working without sufficient equipment, and yet they've continued to persist.
"They are the real heroes."
Local healthcare workers have, for months, been left alone to battle the novel coronavirus as it invaded Knox County, sickening nearly 3,000 and killing 38 people.
At first, in March, when the entire country was placed into lock down, doctors, nurses, technicians, therapists and even environmental service workers learned new procedures, how to sanitize and reuse Personal Protective Equipment amid a nationwide shortage and rearranged an entire hospital all in an effort to prepare for a surge that never came.
But as the weeks of waiting wore on into months, anxiety gave way to fear and then exhaustion at the local coronavirus caseload began to increase, sometimes with as many as 70 new cases reported each day.
Eventually, they found themselves living a nightmare.
"It's taken both an emotional and physical toll," said 24-year-old September McCarter, a patient care technician who has worked for months on COVID-19 floors at Good Samaritan.
"I'm always exhausted."
As a patient care tech, McCarter sees to COVID patients' most basic needs, whether it's assistance in walking to the bathroom or dialing a cell phone to call loved ones.
"But the worst part," she said, "has been seeing your patient one day not be so sick to coming in the next and they're in ICU on a vent. It happens that fast.
"And we get so close to them," she said, her voice thick with emotion. "Their families can't be there with them. So we step in, get to know them. You hear their life stories. And when they go from good to bad, it's emotional. It's been terrifying to see how sick these patients get."
Mary Pargin, a nurse and director of emergency services at Good Samaritan, has watched as exhausted health care workers come back day after day, none of them willing to give up no matter how dark the days.
"We've really not seen anything like the stress this has put on our units," she said. "All of the work we did early on, we were ready, at least in terms of having processes and procedures in place. But there is no way to emotionally prepare a staff for what they are going to see. That's been the hardest part of all this.
"When you see your staff melting in a corner because they just can't do it anymore, you begin to ask yourself, 'What can I do for them? How do I get them to come back tomorrow and do it all again?' "
Having been in hospital administration for quite some time — one of Pargin's many duties during the pandemic has been to report local coronavirus cases to the state Department of Health — she decided to train and re-enter hands-on patient care.
She wanted to connect with and support her staff, she said, as well as the coronavirus patients they were treating. When nurses were at their lowest, she was there to pick them up. They would share in warm memories, news of loved ones waiting at home and offer words of encouragement, gentle nudges to keep moving forward.
They've had a lot of wins, she said, but seen a lot of death, too.
And there's simply no way to prepare for what has never been.
"I hear people say, 'Oh, COVID, it's not a big deal. It's not real,' " Pargin said. "But when you walk through a COVID-19 unit and you see people on ventilators, patients on their bellies and it taking a team of six people to turn them.
"I wish those people would think about the people, the healthcare workers, who have to do this day in and day out and still come back and do it again."
The stress, too, has been felt by Ashley Blocher, 30, an environmental services assistant at Good Samaritan.
As she's cleaned rooms over the last several months, she's seen first-hand how sick coronavirus patients can be. The idle chats she's grown to love with hospital patients has given way to the heartbreaking whirs and beeps of medical machines in otherwise quiet rooms.
Many days, she felt like giving up.
"These patients, they can't speak or breathe," she said. "Watching that, it's taken its toll on me, for sure. The fear of taking it home, that's what scares me the most.
"There are some days where we just want to throw in the towel, but we don't," she said. "We can't."
Scott Evans has been a respiratory therapist at Good Samaritan for the last 20 years.
Respiratory therapists have been thrust into the spotlight in recent months as they've played a pivotal role in the fight against COVID-19 — placing critical patients on ventilators and offering life-saving therapies like high-flow oxygen.
Emotionally, he said, it's been stressful to see how sick coronavirus patients become — and how quickly their situations can change.
"It's a roller coaster," he said. "They'll have a couple of good days and then fall several steps back. We're in a position where we're trying to level the playing field for them, trying to keep their spirits up, but it's hard because we don't know what to expect either.
"The intensity of what we're dealing with starts to wear on you," he said. "These patients, they're all so very sick. And the emotional toll it takes on them is as bad as the sickness itself."
Dr. Lance Payton, an ER physician with Good Samaritan, said he has been both challenged and invigorated by the COVID-19 pandemic.
Physicians across the world, as the pandemic hit, began to look at and study the novel virus, reading just-published medical journals and studies being taken on by colleagues about what seemed to work and, unfortunately, what didn't.
"This was brand new. We knew nothing about it," he said. "And it's scary, but then you learn."
Payton, too, said he's watched as the mood at the hospital has gone from one of anxiety about what was coming to fear as it descended and depleted resources.
"Initially, everybody, even me, when you're the first person to treat someone potentially with COVID, we were scared, absolutely," he said. "As we've found out that our processes do work, it's become easier. But when I go upstairs and walk around in the ICU, I see nurses that are tired, overworked, ones with multiple patients, seeing more and more death, and that's really really hard."
But with the arrival of the vaccine, there is now hope, too, he said.
"We're getting better at what we're doing. We're learning," he said. "We're not seeing it as much in the ER. And now with the hope of getting the vaccine out to everybody, we are all looking forward to some kind of normal once again."
Evans, too, said the vaccine will inevitably bring long-awaited relief.
"It will certainly keep some patients out of the hospital, and other therapies, too, are helping.
"Relief is coming," he said, "if we can just hang in there awhile longer. We have to keep pushing."
Stewart doesn't consider himself a front-line worker. He claims to have largely stayed behind the scenes, although he's been, for all intents and purposes, leading the charge.
He's the one local elected officials and community leaders have looked to for guidance; he's been a trusted source of information for many.
He's the one who fought tirelessly to convince us all to stay home when so many simply didn't want to hear it.
And all in the twilight of his long, esteemed medical career.
"It's been busy, much busier than I ever expected," he said. "But in some ways it's also been gratifying. It's been very educational. I've had an opportunity to get to know and work with a lot of extraordinary people.
"It's been like fighting a war," he said matter-of-factly. "There are those who have been lost, those who have gone on, those who have been injured and will never be the same again.
"But I'm ready to see this through. I'm ready to see it end."