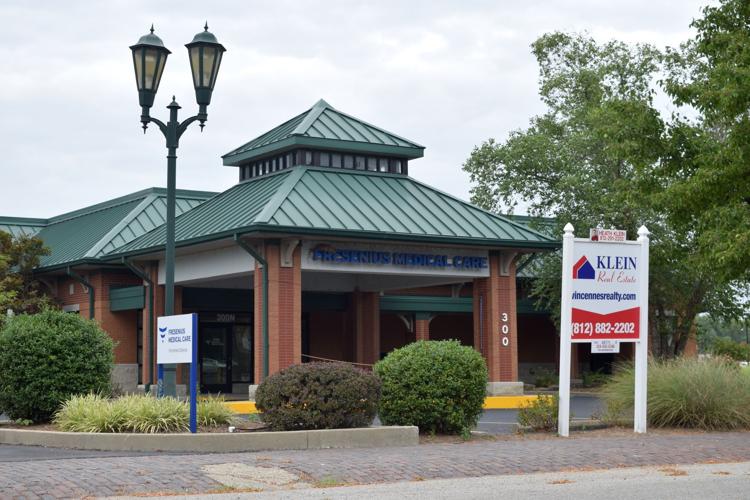 A new COVID-19-specific testing site will soon open on First Street.
Thanks, in part, to a grant obtained by the Knox County Health Department and in partnership with Good Samaritan Hospital and Vincennes University, the drive-thru testing site will be located in the old surgery center at 300 N. First St. as early as next week, according to county health officer Dr. Alan Stewart.
Good Samaritan Hospital's Board of Governors on Thursday, during their regular monthly meeting, approved purchase of the building — most recently a dialysis center — for $875,000.
GSH CEO Rob McLin said he thought purchasing the 9,800-square-foot building an "opportunity we can't pass up."
"As an organization, as we continue to grow, this will allow us to offer additional services to our patients in the community," he said.
"There are a multitude of different options that we want to pursue and look for in terms of utilizing that building," he went on. "We'll consider them all over the next 3-6 months.
"But the starting point will be use as a COVID-19 testing site."
Stewart, earlier this month announced that the Knox County Health Department had applied for — and would likely receive — a $100,000 state grant, money that would help to fund a drive-thru testing clinic.
Initially, he thought the clinic would likely open at the immunization clinic, located at 305 S. Fifth St.
But then the opportunity to use the former surgery center presented itself, and he thought it an even better site.
"It's a nice building," said Stewart of the location. "It's ideal for this clinic because it has ample parking, a canopy already for the drive-thru, and it's within walking distance of Vincennes University.
"We're all really exited about it."
The state grant will go to pay for the computer software upgrades necessary to run the clinic, Stewart said, as well as three part-time nurses to help staff it.
State funding would also cover the necessary test swabs and the cost of a courier to take them to and from the nearest lab.
As per guidelines associated with the grant, the clinic needs to be open at least five days a week, Stewart explained, as well as some "non-traditional hours" and on weekends.
The grant money will help fund the clinic through the end of June 2021, should it be necessary.
Stewart has said he isn't clear on all the details, but he expects he will able to issue a sweeping physicians' order for anyone who wants a test at the drive-thru clinic.
But to narrow it down and not overwhelm staff, he's likely to request phone-ahead screenings and, possibly, appointments.
Stewart, too, is hopeful that better, faster testing will soon be available.
A saliva test with a quicker turnaround is already being tested in other markets.
"It's coming down the pipe, and hopefully we'll have that in the very near future," he said.
Commissioners Kellie Streeter and Trent Hinkle actually voted against the hospital's purchase of the building Thursday.
Streeter, commission president, said she thought it "a wise business move," just at the wrong time.
"With the current environment, with COVID-19 and without a sure plan for the building even though there are many options, I just didn't feel it was the right time to be purchasing a piece of property," she said.
"However, I do think it was a smart purchase and one we'll most likely use in the future."
• • •
Knox County recorded its fourth COVID-19 death on Thursday as a second resident at Lodge of the Wabash, a local nursing home, died from complications, according to Stewart.
The county also recorded eight new cases of the novel coronavirus, bringing the total confirmed now to 311.
More than a dozen remain hospitalized.
Stewart, too, said many of the cases are from a "major employer," although he is so far declining to name the business.
He said there have been multiple cases resulting from that business' rather lackadaisical approach to safety standards.
Complaints against that business, Stewart said, have been filed by the state.
"And we're addressing it," he said matter-of-factly.
Local schools, Stewart added, continue to fare well.
The Vincennes Community School Corp. reported five cases at Lincoln High School earlier this month but have no active cases now.
The North Knox School Corp. is reporting six active cases at the Jr. Sr. High School and another two cases at the Intermediate School, while South Knox is reporting four cases at the Middle High School.
There have been no cases reported at Vincennes Catholic Schools, Stewart said.