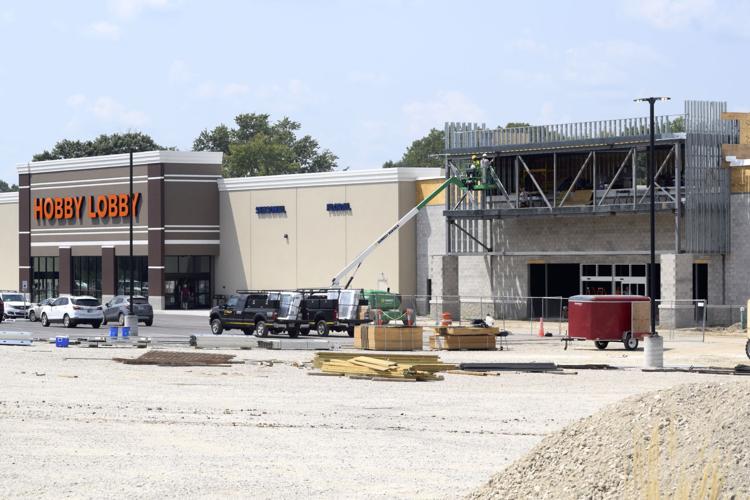 Work is ramping up on the Marshalls discount department store currently under construction in the new Kimmell Pointe Shopping Center.
But due to delays caused by the nationwide shutdown associated with the first wave of COVID-19, local developer Heath Klein said it isn't likely to open to customers until springtime.
"Work did slow, but it never really stopped," he said of construction. "They are behind schedule, though. Marshalls was supposed to open this fall, but with the pandemic, that's now going to be later.
"They'll finish the actual store this fall, but they probably won't open until spring."
Marshalls, headquartered in Massachusetts, will join Hobby Lobby as the first two anchor stores to locate inside the city's newest shopping center.
Hobby Hobby, an arts and crafts and home decor store based in Oklahoma City, opened to eager customers in February and has had record sales despite the ongoing COVID-19 pandemic, Klein said.
"The projections Hobby Lobby had for the Vincennes store, they've exceeded those by 40%," Klein said. "They had no idea the market here would be this big, that it would pull from such a wide radius.
"So that's helped us in talking to some other businesses, tremendously," he said. "That's huge. We're really excited about that."
Before the pandemic hit this spring, Klein said he was in talks with about ten other tenants interested in building inside the Kimmel Pointe Shopping Center. Some of those conversations, he said, "have fallen by the wayside" as those business owners struggle to survive following the the nationwide shutdown.
But he's still in talks with some, he said, and the success of Hobby Lobby has driven those talks forward in recent weeks.
The slowdown associated with COVID-19, too, has allowed Klein to more directly focus his attention on retail businesses and restaurants that he believes will do well here
"Overall, this has not been a bad thing," he said of the pandemic's affect on the retail development project. "It's allowed us to really hone in on our target demographic, businesses that we think would do well here.
"Because we don't just want a business to locate here and then close a few years later. We want businesses that are going to be here for a long, long time."
Klein announced in the fall of 2019 that officials with Texas Roadhouse, a popular steakhouse, planned to build at Kimmell Pointe as well.
Construction has yet to begin, but Klein said he expects to see dirt moving by the end of the year.
The hope to be open to the public, he said, sometime next year.
"We're still working with some others, and we hope to make some announcements early next year," Klein said of other prospects. "We have definitely seen a slowdown due to the virus, but we're in active negotiations with a couple still, and we hope to see something happen with those."
It's been nearly six years since Klein first announced he'd purchased the old Kmart property in the hope of redeveloping it, and it's been three years since the city's Redevelopment Commission partnered with him in building the Kimmell Road extension, which features the city's first roundabout.
Progress, however, took something of a hit in the fall of 2017 after one big box retailer pulled out at the last minute, a move that eventually caused Klein to switch development partners altogether.
But it was a move, he previously said, that led to "bigger and better" anchor stores.
"It's taken a little longer than I would have hoped," he said of the development project. "But the guys I talk to in this profession say it's actually gone really really fast, even with the pandemic.
"And I really believe in the tenants we have so far, so that's good."
The RDC, too, just completed a $4 million reconstruction of Main Street, the first of a three-phase effort, done, in part, to spur continued development there.
The first section picked up at 22nd Street and headed out to Jamestown Apartments; it includes connection into the Kimmell Pointe Shopping Center.
The two subsequent phases will eventually take Main Street improvements all the way out to Richard Bauer Drive. Designs for those are under way.