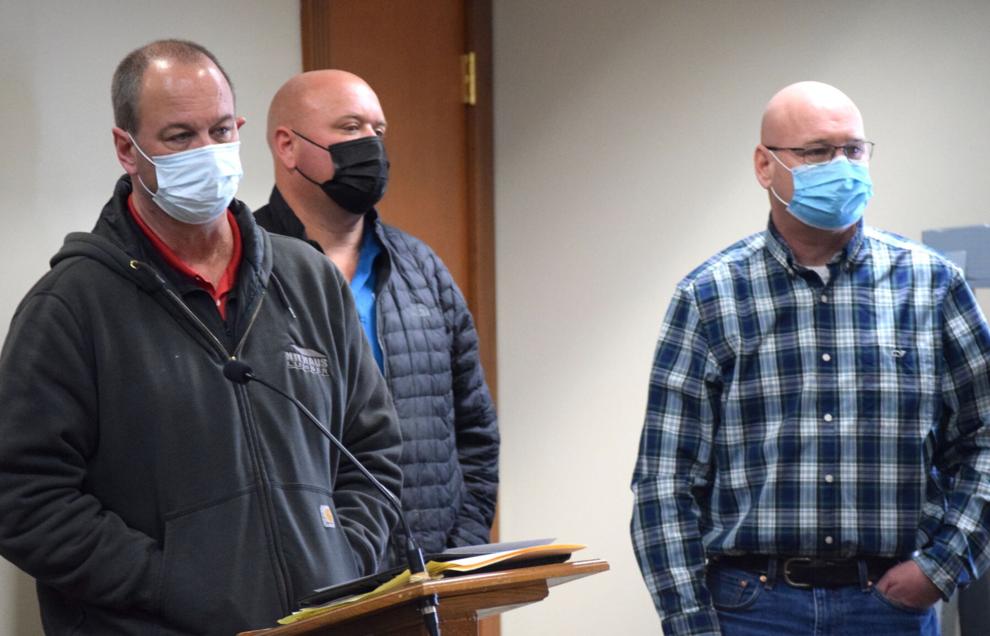 Members of the city's Redevelopment Commission continue to find themselves at a stalemate with three local brothers interested in taking on a major housing project on the city's southeast side.
RDC members met once again this month to take back up discussions of the possible Lincoln Heights subdivision, a project proposed by Butch, Eric and David Niehaus, co-owners of Niehaus Companies.
Dubbed Lincoln Heights, the development trio is preparing to purchase multiple lots adjacent to Quail Run Road, specifically behind Herman Family Dentistry; Lincoln High School is located just across Hart Street.
The plan would be to work with builders by providing inexpensive lots to construct as many as 129 homes in that space. Niehaus Companies would then profit from selling those builders the necessary materials.
The Niehauses initially asked the RDC to put up the cost of necessary infrastructure, or about $2.3 million, a move that would allow them to keep the lots cheap.
RDC members questioned whether or not that was possible, and on Thursday, they learned — at least mostly — that their suspicions were right.
"It's all about risk. We're looking at it just like you are, only from the other side," RDC president Tim Smith told Butch, Eric and David Niehaus as they met at City Hall, 201 Vigo St.
"We're interested. I just don't know how we get there."
RDC members last month directed their financial advisors with Seymour's Reedy Financial Services to look more closely at the development of a new residential- specific Tax Increment Finance Zone, a move they though could raise the funds necessary to grant the Niehauses' request.
But the information wasn't exactly what they'd hoped to hear, at least not in terms of a speedy timeline.
Condel Bowen, an advisor with Reedy, ran the numbers and said assuming the Niehauses could build 125 homes in four years — and with the expectation that each of them would sell for at least $200,000 — the RDC could potentially collect $175,000 in revenue each year over the course of the 25-year life span of the residential TIF, for a total of $3.8 million.
It's not a lot of revenue, Bowen pointed out, not to mention that building 125 homes in four years would be an extraordinary feat.
"But this is the absolute best picture," Bowen told the group, reminding them that everything — from sale price to projected assessed value — would need to go according to plan in order for the RDC to collect the full $175,000 per year.
The deal would likely look something like this: the RDC would set up the residential TIF, essentially drawing its lines around the proposed development, then would capture any increase in property tax revenue as a result of construction.
The RDC could then pay out that $175,000 — or a portion of it — per year over 25 years to the developer as a kind of reimbursement for infrastructure costs.
Doing it this way would, Bowen pointed out, would serve as an incentive to the developer. The better the development performs, the more money they are paid over the course of the 25 years.
But it's a huge risk for a developer to take. And it requires a major up-front investment.
The Niehauses countered with a different proposal; they asked the RDC to consider giving them $200,000 over seven years using existing TIF revenue in addition to the revenue that would created by any residential TIF created.
That deal, however, shifts the risk onto the RDC itself.
"That would be a big obligation," Bowen told commission members.
Smith, too, pointed out that such a deal struck would essentially pay the Neihauses "twice" and leave the RDC no way to reimburse itself for the $1.4 million paid out over seven years.
Butch Niehaus, however, said that was the deal with which the brothers were "the most comfortable" in terms of possibly moving forward.
Time, however, is of the essence, and creating the residential TIF, Bowen pointed out, would take months, even years. They wouldn't see a dime until 2025.
RDC members, too, have said they likely won't move forward with any kind of investment at all without the results of a housing study being taken on by several local entities, one expected to hone in on the exact gaps in the local housing market.
Officials have for years talked of the need for more mid-range-priced homes; this study, spearheaded by the Knox County Development Corp. will say for sure.
But the Niehauses need to decide soon whether or not they will move forward with the purchase of the land.
Smith said as much as he is concerned with whether or not the RDC can fund the project, he's just as concerned with the need for more housing.
"But with all that said, it's going to be tough for us to do the $200,000 for seven years, extremely tough," he said.
RDC member Greg Parsley, also superintendent of the Vincennes Community School Corp., said while he is "100% supportive of the (housing) project," he, too, is worried "from a financial aspect."
RDC member Bob Slayton agreed that the "barriers are pretty steep" despite the Niehauses' project being "a tremendous vision that meets a tremendous need in the community."
And RDC member Marc McNeece agreed that, at least financially, the deal proposed by the Niehauses likely wasn't possible.
"We can't do $200,000 over seven years without paying ourselves back with the new residential TIF money," he said.
The RDC has committed to other, smaller housing projects in recent months and will, over the next couple of years, finish up with a three-phase, multi-million dollar effort to improve Main Street.
Looking ahead, it would be best to prioritize what their priorities are in terms of spending the remaining RDC funds; a large portion of the existing TIF is expected to expire in 2027.
McNeece did, however, suggest that those aged 27-33 make up the most populace group in the country right now. And those people, he said, are looking for communities in which to put down roots.
"So how do we get them here?" he asked, adding that the city's lack of housing is a significant downfall.
Butch Niehaus, too, said many people are looking to relocate to Indiana right now, especially from neighboring Illinois, due to tax incentives being offered by state officials.
Now is the time, he said, to capitalize on that.
Parsley, however, pointed out that the RDC has looked, too, at other housing needs, such as incentivizing developers interested in restoring historic homes or building in-fill on empty lots throughout the city.
The RDC, he suggested, needs to remain nimble to meet those needs.
The bottom line, however, is that if the the two groups want to work together, more waiting is necessary.
"We just all need to keep thinking, figure out how we do this," Smith said. "Unfortunately, that's the best we can tell you today. We're certainly interested; we just have to figure out how to pay for it.
"We have to find a place where we're there and you're there and everybody's there."