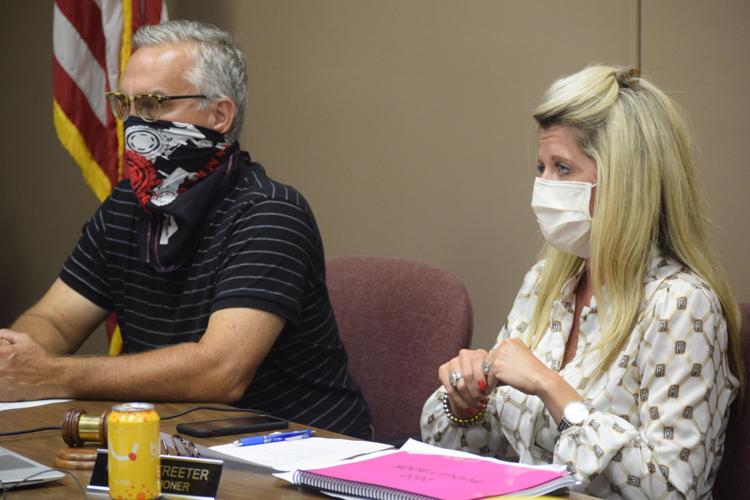 The Knox County Commissioners on Tuesday took back up discussions of a solar ordinance but quickly opted to hit pause yet again.
The commissioners say they are open to making changes — ones suggested by solar developers earlier this month — to the proposed legislation, which would regulate the development of solar energy systems in Knox County. They've even suggested amendments to Barnes and Thornburg, the Indianapolis firm drafting the ordinance.
But with no representative from Barnes and Thronburg at the meeting Tuesday — and in the absence of their own legal counsel, Andrew Porter — commissioners felt their hands tied in terms of moving forward.
"I have notes. I have my own ideas, but I don't think we can amend an ordinance without an attorney here," said commission president Kellie Streeter.
"I hate to push it again, but I don't think we have much choice."
Dan Farrell, a project development manager with Miami-based Origis Energy, and local resident Kent Utt, who is now serving as a consultant for Tenaska, another solar company located in Nebraska, spoke before members of the Area Plan Commission earlier this month as they considered the proposed solar ordinance.
Two of the three commissioners were in attendance to hear their concerns.
Farrell wanted to lessen the financial burden on solar companies by delaying the establishment of a decommissioning security bond until 20 years after the solar farm is constructed.
Utt asked that the county consider allowing for a preliminary permit, of sorts, so solar companies aren't out hundreds of thousands of dollars in engineering costs only to see the county decline an application later.
APC members acknowledged that they were valid concerns — and listened to near three hours of discussion — but in the end, per the advice of legal counsel, decided they couldn't make any changes to the ordinance. They did, however, give it a favorable recommendation.
Further amendments, they agreed, would be left up to the commissioners.
Streeter said the commissioners are open to addressing developers' worries by making changes to the ordinance; she mentioned specifically Farrell's concern over the decommissioning plan and said, perhaps, the commissioners could at least make sure there is no "overlap" in terms of their potential agreements with landowners. Farrell told the APC that there is often duplication as both counties and landowners require such decommissioning bonds; that, he said, can get very expensive.
Streeter, too, said she saw no reason why the ordinance couldn't be changed to include a kind of "staged-in process" for solar developers to use as their engineering plans come to fruition.
A "fully-engineered plan," Utt told the commissioners Tuesday, would simply cost too much.
"It would be more than a half-million dollars to have every spec and detail done," he said.
The commissioners said they understood.
"We just want to make sure that, as a county, and as we do with all of our permits, that we know what the project entails," she said. "I don't think we need to front-load it all.
"I think we can all agree on that," she said.
Commissioner Tim Ellerman, too, said he looked forward to putting the process — one that has now taken months — behind them.
"We want to get this done and get moved on to other things," Ellerman said. "I don't think there will be any surprises here."
And Hinkle said it was not his intention to "hold up" any development as both Tenaska and Origis are looking at building solar farms here. Property owners in discussions with these developers, too, say they're on board and want to see the ordinance finished.
In the end, the commissioners agreed they would schedule a special meeting to discuss the proposed amendments and likely approve it on second and third reading.